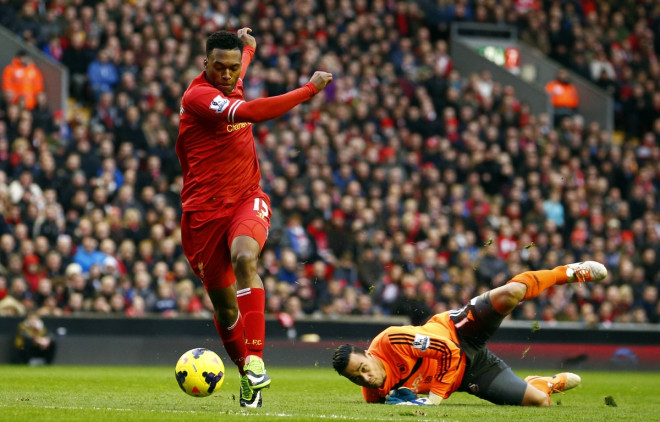 Daniel Sturridge has revealed Fernando Torres advised him to join Liverpool from Chelsea in January 2013.
The Spain international was one of the star strikers to wear the Red shirt. However, Torres left Anfield and completed his £50m move to Chelsea in 2011. The England international said the former Liverpool star spoke very highly of the Merseyside club while the two were at Stamford Bridge.
The 24-year-old saw his playing time being limited at the west London club and was unhappy with the situation at Chelsea. The former Manchester City striker admitted that he had lost love for the game with the Blues.
However, Sturridge has been in impressive form for the Reds since his move to Anfield. This season, he has netted 19 goals and managed seven assists in 22 league appearances this season.
"He [Torres] always spoke very highly about Liverpool," says Sturridge. "When we were at Chelsea together he would say, 'Liverpool are amazing', and it wasn't just him — it was Yossi Benayoun as well," Sturridge told the Daily Mail.
"They both said, 'That club is the best I have played for.' They said the fans will make you feel amazing and, at the time, I thought I need a bit of that in my life because I was low right then. I need to feel good about myself, so it was an easy decision to come here."
"My dad (Michael), my uncle (Dean, the former Derby striker) and I all shared the same opinion: this was the best place to go. When Liverpool came in, it was one of those situations that I just wanted to get up the M6 as quick as possible, sign on the dotted line and get to work."
"I was desperate to get here and show what I could do. I was hungry and I am still hungry. There is so much for us to achieve," the England striker concluded.
Sturridge scored once and managed an assist during Liverpool's 3-6 win over Cardiff City. The result has left Liverpool still in contention to win the league title this season. Rodgers's side are second in the table with 65 points from 30 games, trailing league leaders Chelsea by four points who have played one game more.