David Beckham played his final game for Major League Soccer's (MLS) Los Angeles Galaxy on 1 December. The championship game against Houston Dynamo ended in a 3-1 win for the Galaxy, with former Premier League forwards Robbie Keane and Landon Donovan among the scorers.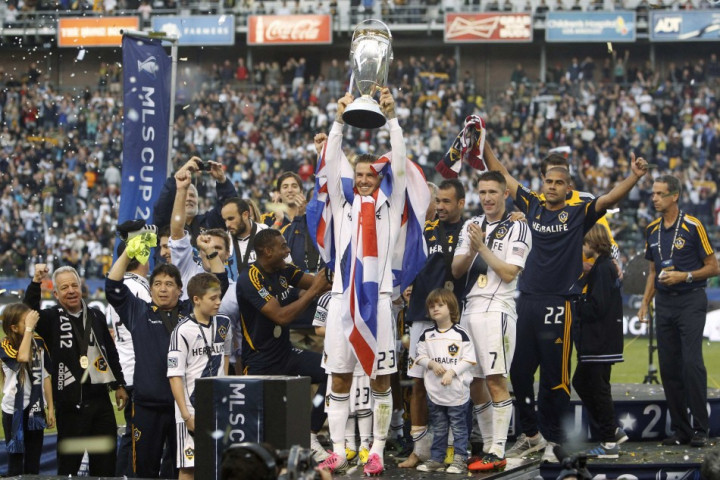 The evening could have been very different for the former Manchester United and Real Madrid star. Dynamo took the lead with a goal by Calen Carr but Bruce Arena's side replied with defender Omar Gonzalez on the hour mark before two penalties, one for a Ricardo Clark handball and the other for a foul by goalkeeper Tally Hall, were dispatched. Ex-Everton man Donovan scored the first, while former Spurs and Liverpool striker Keane won and converted the second.
Beckham, meanwhile, had a quiet but clean game for the Galaxy and the ex-England national team captain kept the midfield ticking over for his side, despite not enjoying the majority of possession. The 37-year-old midfielder's LA Galaxy career came to an end in injury time, when he was substituted for Marcelo Sarvas. The Englishman left the field to confetti-strewn applause from a 30,000-strong crowd. After the whistle Beckham said that while he would no longer play for the Galaxy, he would always hold the club in high regard and hoped to be able to remain in an another capacity.
"I am sad that this is the end. This is a very special place for me and it will continue to be. I am happy to have been part of this club for six years and I am grateful to have been successful for the last four years. I may not play here anymore but I remain just as committed to growing this club, this league and this sport," he explained.
Beckham won two MLS Cups (2011 and 2012), two MLS Supporters' Shields (2010 and 2011) and six MLS Western Conference titles (three in the regular season - 2009, 2010 and 2011, and three in the play-offs - 2009, 2011 and 2012) during his time at The Home Depot Center.
The veteran remains one of the highest profile sportsmen in the world and is being linked with a number of clubs. Among the teams touted as future destinations are French clubs Paris St Germain (PSG) and second division side AS Monaco.