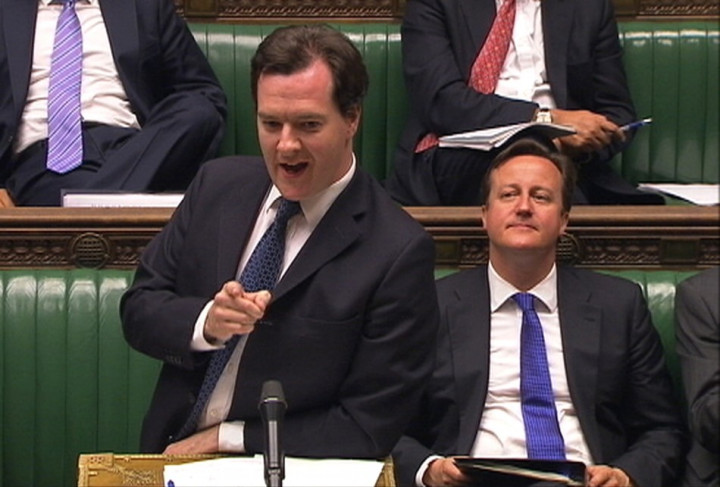 As the recession drags on into yet another quarter, with abysmal economic data showing a worse-than-expected fall in output of 0.7 percent in the three months to June, David Cameron will be tempted to put his foot firmly up his troublesome chancellor's backside come the September cabinet reshuffle - but he won't.
Osborne, whose facial expression appears to be stuck on the sneer setting, has taken an axe to his, and in turn the government's, reputation on the economy in recent months.
He has u-turned more times than a one-armed swimmer lost at sea, with three of his 2012 Budget pledges being reversed.
A tax on hot pasties was scrapped after outrage from The Sun and its podgy pastry-gobbling readership. Then a charity tax on philanthropic donations was thrown out.
Petrolheads ran over Osborne's plans for a 3p hike in fuel duty.
Instead of making media appearances himself to justify the fuel duty decision, he wheeled out junior Treasury minister Chloe Smith, who was duly mauled in what will go down as one of the defining interviews that punctuate the career of journalism's grizzly bear Jeremy Paxman.
For this cowardly dodge, Osborne took a lot of flak.
The latest dismal GDP figures follow reams and reams of appalling British economic data that have haunted Oxford-educated Osborne.
Earlier in the year the ratings agencies Fitch and Moody's placed the UK's AAA status on negative watch, with a downgrade now a serious threat as the recession deepens.
Osborne's swingeing austerity package, known as "Plan A", has been criticised by the International Monetary Fund, who said it should be blunted.
At the heart of the coalition government's economic policy - particularly championed by the Tories - is the notion of "credibility".
Plan A is designed to give the UK government fiscal credibility, by balancing public finances and bringing down the deficit through biting austerity.
There is no alternative to Plan A, the government has consistently bleated, and the public debt must be brought down, though most recent data shows it has risen to a 42-year high against GDP in a foghorn alert that the government's economic policy is failing.
This stubborn stance is the Treasury's fiscal bedrock and has been heavily criticised, especially in light of recent data, but the government has stuck like a limpet to its austerity programme.
For Cameron to sack beleaguered Osborne as chancellor would be to undermine the coalition's Plan A.
It would reinforce the views of his critics - most significantly Labour - who say the austerity plan goes too far, too fast and all but ensure a Labour victory at the next election, as the coalition's very foundations would be irreparably weakened.
Any credibility it once had would be as dead as the look behind Nick Clegg's weary eyes.
As well as Cameron desperately attempting to protect the coalition's self-gifted status of fiscal credibility, Osborne will be underpinned by the timing of the impending September cabinet reshuffle.
For a number of reasons - base effect, falling inflation, London 2012, and so on - most economists say that there will be a sudden boost in the third quarter GDP figures.
Osborne may point to this anticipated boost and the unique Jubilee and bad weather factors that held the economy down in the second quarter as reasons to justify his place at the Treasury's helm.
Britain will not find out if this bounce has taken shape or not until October - well after the reshuffle.
So it will be political circumstance, not Osborne's ability, that saves him - a damning indictment of one of Britain's most incompetent chancellors ever.