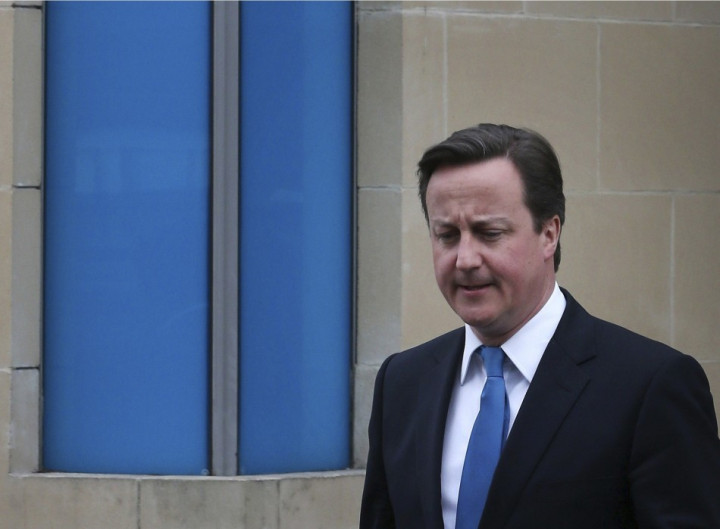 David Cameron has been accused Wednesday of inflating his government's record on job creation as consumer spending data points to a deepening of Britain's second recession in three years.
Cameron's assertion at Prime Minister's Questions in the Houses of Parliament that his coalition government has created 600,000 jobs since it took office in May of 2010 has come under fire from a former senior Bank of England official and is not supported by official data from the Office for National Statistics (ONS).
"I find it astonishing that the prime minister continues to argue that they have created 600,000 net jobs on the year," Danny Blanchflower, the Dartmouth College Economist and former member of the Bank of England's rate-setting Monetary Policy Committee, told International Business Times UK. "There is no 600,000 jobs created. It is just not true."
Cameron has been touting the figure as his government's record on the economy has come under increasing scrutiny, particularly after the head of the International Monetary Fund, Christine Lagarde, suggest Tuesday that Britain may need to reconsider its austerity strategy if a recovery in Europe's second-largest economy fails to materialise.
"It is welcome that we have had the largest rise in employment for over a year," Cameron told parliament during his weekly session head-to-head with Labour leader Ed Miliband. "The number of people in work since the last election is up by 370,000 and private sector jobs are now up by over 600,000".
However, according to the ONS, there were 22.85m people employed in the private sector in the quarter ending in June of 2010.
At the end of December 2011, the last set of quarterly private sector employment figures available from the ONS, there were 23.17m employed in the private sector.
This comes to a net increase of 320,000 private sector jobs, nearly half of the prime minister's claim.
In the same period since the coalition government took office the total number of public sector jobs has fallen by 350,000 leaving a jobs deficit between the private and public sectors of 30,000.
Downing Street officials have yet to provide clarification for the prime minister's figure after being contacted by the International Business Times UK.
"Under David Cameron's government Britain's job crisis has rolled on and on, youth unemployment is over a million, and Britain has entered a double dip recession made in Downing Street," Stephen Timms, Labour's shadow minster for employment, said.
"There are now tens of thousands more people out of work than there were since David Cameron took office.
"He should spend less time massaging the figures, and more time working on a real strategy for jobs and growth to get our country moving again."
UK employment prospects gloomy
Britain is mired in another recession as eurozone woes and government austerity continue to weigh heavily on growth, leaving little prospect for a future surge in jobs creation.
A sharp decline in retail sales volume for April of 2.3 percent month-on-month shows that hard-pressed consumers are still staying away from the high street.
The UK economy contracted by 0.2 percent in the first three months of the year, according to the ONS, after a 0.3 percent drawback in GDP in the last quarter of 2011.
This decline is likely to continue into the third quarter, after Bank of England economists said the Queen's diamond jubilee in June could provide as much as a -0.5 percent drag on the economy.
Furthermore the Bank's £325bn quantitative easing programme, which saw it buy up high quality assets such as gilts to improve liquidity in the markets, appears to have done little to stimulate spending by big businesses, further dampening job hopes.
The Bank has since slashed its growth forecast to 0.8 percent for the year, from previous estimates of 1.5 percent.