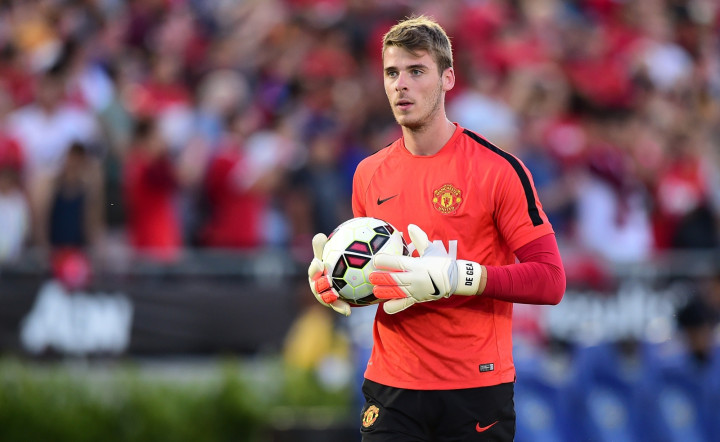 David de Gea has hailed Manchester United goalkeeping coach Frans Hoek as "one of the best he has ever seen".
Hoek arrived at Old Trafford alongside Louis van Gaal in the summer having worked with the manager at Barcelona, Bayern Munich, and with the Dutch national team.
Former United goalkeeping coaches Eric Steele and Chris Woods have been credited with helping mould de Gea into one of the best goalkeepers in the Premier League following initial concerns after his arrival from Atletico Madrid in 2011.
Under Hoek's regime, the Spaniard admits things are very different, with the Dutchman keen to see United's goalkeepers use their feet more, but has been impressed by his impact at Carrington.
"For me and the other goalkeepers it has been a new way of training, but Frans knows everything about the goalkeeping positions," De Gea told MUTV.
"The things we do with our positioning, our feet... everything. He is one of the best I have seen. He wants to work on the positions for the different crosses, the shots. And for him, he wants us to play with our feet, the build-up is important to him."
Hoek's list of students includes the likes of Victor Valdes, Pepe Reina, and former United stalwart Edwin van der Sar.
Hoek worked alongside the Dutch shot stopper as Ajax rose to prominence under van Gaal in the 1990's, and van der Sar believes Hoek's guidance will see de Gea become one of the best in the world.
"He (Hoek) groomed me and helped me learn all the things I needed to know to be a successful footballer over a lot of years," van der Sar said following the coach's arrival at Old Trafford.
"He should be a great help for David. He used to work at Barcelona so he'll speak Spanish, although I know David speaks good English now. I think they'll be a good combination."