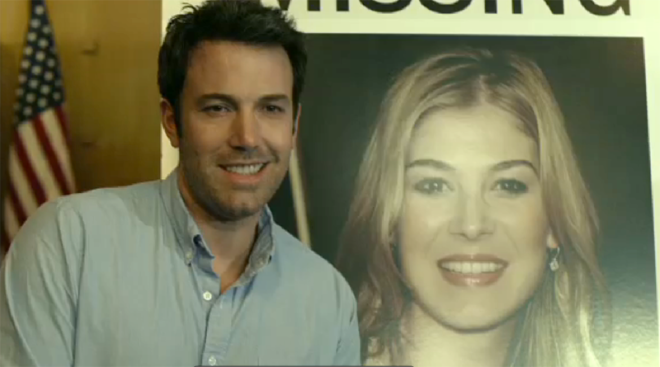 The first trailer for David Fincher\'s Gone Girl has been released, starring Ben Affleck and Rosamund Pike.
Fincher\'s adaptation of Gillian Flynn\'s acclaimed best-selling novel, tells the story of a man suspected in the disappearance of his wife on their fifth wedding anniversary.
Affleck and Pike star as the couple, but Fincher\'s film will differ greatly from the source material with a new third act penned by Flynn herself, who has adapted her book for the big screen.
At first, a seemingly devastated husband, Affleck\'s character, Nick, soon arouses suspicion from investigating police as the truth of his marriage to wife Amy becomes apparent.
As a trailer it is as unique as you\'d expect from Fincher, with the dark mystery thriller playing out in the footage at odds with the lyrics of Charles Aznavour\'s romantic song \"She\", performed here by Richard Butler of the Psychedelic Furs.
Regarding the new ending, Flynn told Entertainment Weekly: \"Ben [Affleck] was so shocked by it. He would say, \'This is a whole new third act! She literally threw that third act out and started from scratch.\'
\"There was something thrilling about taking this piece of work that I\'d spent about two years painstakingly putting together with all its eight million LEGO pieces and take a hammer to it and bash it apart and reassemble it into a movie.\"
Neil Patrick Harris, Tyler Perry, Scoot McNairy and Missi Pyle also star in the film set for release in the UK on 3 October.