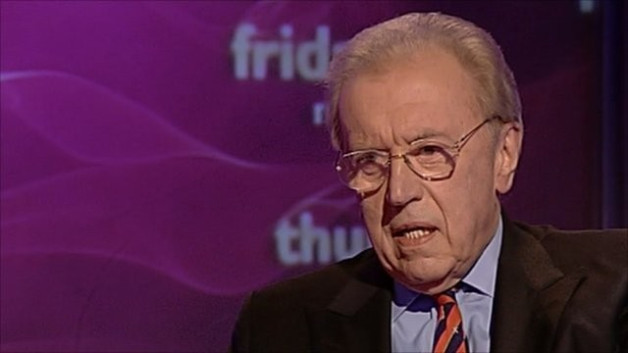 British broadcaster and journalist has died at the age of 74, having suffered a heart attack.
He was a writer, media personality and TV game show host, rumoured to have a personal fortune of £200m.
Frost came to fame as a satirist in the 1960s, hosting the popular weekly comedy show That Was the Week That Was (known as TW3). The show was short-lived but hugely influential, helping to kick off Britain's 1960s satire boom.
For Frost, TW3 was the beginning of a long and unusual television career that included light entertainment and heavyweight reporting.
Frost spent 20 years as host of Through the Keyhole, as well as conducting important interviews with many political figures.
Frost was the only person to have interviewed eight serving British prime ministers between 1964 and 2010 (Harold Wilson, Edward Heath, James Callaghan, Margaret Thatcher, John Major, Tony Blair, Gordon Brown and David Cameron) and the seven US presidents in office between 1969 and 2008 (Richard Nixon, Gerald Ford, Jimmy Carter, Ronald Reagan, George H. W. Bush, Bill Clinton and George W. Bush).
He was also the last person to interview Mohammad Reza Pahlavi, the last Shah of Iran.
From 2006-2012 he hosted the weekly programme Frost Over the World on Al Jazeera English. The programme featured interviews with Tony Blair, President Omar al-Bashir of Sudan and Benazir Bhutto.
Frost was born in Tenterden, Kent, on 7 April 1939, the son of a Methodist minister, the Rev. W. J. Paradine Frost, and his wife Mona.
He attended Gonville & Caius College, Cambridge, where he graduated with a degree in English. Throughout his school years he was an avid football and cricket player and was once offered a contract with Nottingham Forest Football Club.
He was also secretary of the famous Cambridge Footlights Drama Society, which included actors such as Peter Cook and John Bird.
In 1981 he married Lynne Frederick, the widow of Peter Sellers, but they divorced the following year.
On 19 March 1983, David Frost married Lady Carina Fitzalan-Howard, daughter to the 17th Duke of Norfolk, and the couple had three sons.
The broadcaster was famous for his introduction to shows: "Hello, good evening, and welcome", which was parodied many times. His wit and humour were also legendary, with quips including: "He's turned his life around. He used to be depressed and miserable. Now he's miserable and depressed."
Watch the Nixon interview with David Frost
Watch Frost end the last TW3 in 1963