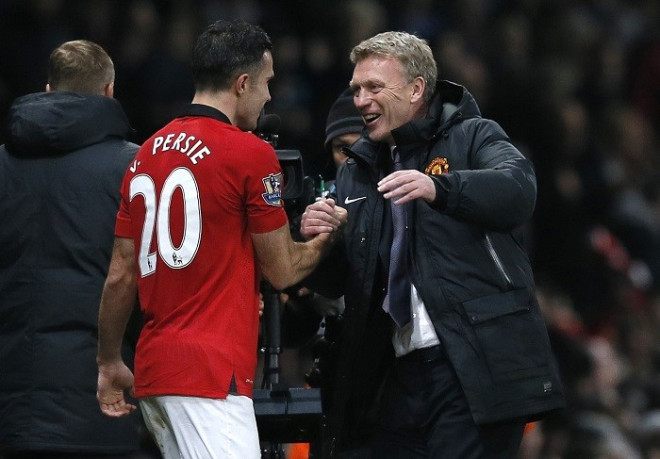 Manchester United manager David Moyes has set the recent rumours surrounding Robin van Persie's future to rest by insisting the striker is well settled at Old Trafford.
Ronald de Boer, the former Netherlands international had admitted the 30-year-old could leave the Premier League champions after the end of the season if Moyes fails to strengthen United's squad in the summer.
The Guardian earlier reported the former Arsenal star was unhappy under the management of Sir Alex Ferguson's successor at the club and would consider his options at the end of the current campaign.
"I couldn't reply to that and I wouldn't know how Ronald de Boer would know that. I travelled back from the [Holland] game with Robin the other night. I went to the game, watched them play and travelled back with him. I hardly feel I need to answer the question," Moyes was quoted as saying in the Guardian.
"None whatsoever [no issues with Van Persie], if you actually read the full transcript I understand totally where he [De Boer] was coming from."
United lost their first leg of the Champions League tie 2-0 to Olympiakos in Greece. Van Persie and Wayne Rooney started the game for the Premier League champions. The Dutchman made only one pass to the England international which came during the kickoff.
However, Moyes has brushed aside the suggestion that the linkup between Van Persie and Rooney has been poor since the two returned from injuries.
"The statistics before they both came back [from injury] proved that we had lost one game with them in the team up until the previous three or four games," the former Everton boss stressed.
"The record with the two of them in the team was fantastic, so I was talking up how good they were together a month ago. It's only in the last couple of games that has gone."
"We didn't play well at Olympiakos but prior to that we won at Palace and drew at Arsenal. It was that one game that has dragged this up," Moyes added.
United are seventh in the league table with 45 points from 27 games. Moyes takes his men to the Hawthorns as the Red Devils take on West Bromwich Albion for the league fixture on Saturday.