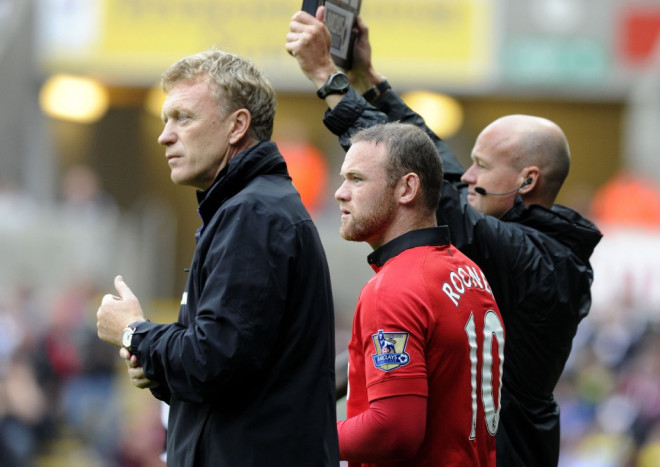 Manchester United manager David Moyes has denied reports Wayne Rooney has signed a new long term contract at the club.
A number of reports on Friday claimed the 28-year-old had put pen to paper on a new five and a half year contract with the reigning champions, reportedly worth £300,000 a week.
But during his Friday press conference, the United boss dismissed talk of an agreement, but remains hopeful of extending the striker's deal beyond its current expiry date of June 2015.
"As soon as we have information we'll give it to you," Moyes told reporters, the club's official website reports. "Everyone knows how important he is. He's a terrific footballer. If we can get it done it will be great."
Rooney's future at Old Trafford was cast in doubt last summer after Moyes' predecessor Sir Alex Ferguson revealed the striker had handed in a transfer request at the end of last season, a claim the player vehemently denied.
The striker enjoyed an impressive start to the season despite United' feeble attempt to defend their Premier League crown and has returned to the first team fold alongside Robin van Persie in recent weeks after an injury lay off.
United are in action against Crystal Palace at Selhurst Park on Saturday after returning from a warm weather break in Dubai. Rooney was sent on a separate rehabilitation trip with United's physio prior to his return from injury and Moyes is hopeful the trip will have allowed his squad to recharge their batteries as well as boost morale.
"It was great that we had some time together with the players - the first time I've really had the chance to have a few days with them," Moyes continued.
"We trained and had some relaxation time as well, so it was good. You hope you get some benefit from it. We'd have rather been in the FA Cup, let me tell you that more than anything, but we weren't, so the next thing we had to do is get them ready for the 12 remaining [league] games."