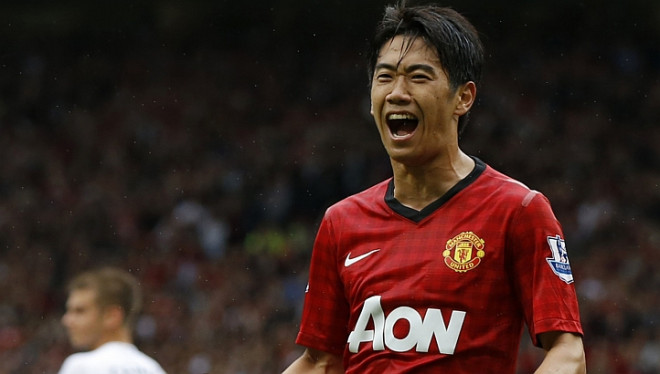 In June 2012 Sir Alex Ferguson signed Japanese international Shinji Kagawa from the then-German champions Borussia Dortmund. Manchester United paid £17million for one of the best central midfielders in Europe, a price which looked like a sound piece of business at the time. But since joining the club Kagawa has struggled to hold down a starting place under either Ferguson or the new United manager, David Moyes.
However, after recent performances in the Premier League against West Ham and Aston Villa, and a solid second half substitute appearance against Bayern Munich earlier this week, it is time for Kagawa to be one of the first names on the teamsheet. His creative spark is one of the qualities the champions have longed for all season and with Robin van Persie injured indefinitely he can create an effective partnership with Juan Mata behind the ever-present Wayne Rooney.
This season Kagawa has made just 24 appearances for a struggling side and has rarely looked like a weak link in the team when selected. It is safe to say most United fans would rather have Kagawa, for all his physical limitations, in the side than Nani or Ashley Young. However, if selected, Kagawa must play in his favoured position just behind the striker.
Many feel this is the issue with being able to fit the Japanese international into the team but in truth there is no problem with having him alongside Mata behind a striker. You can then have three central midfielders behind them or two wingers with either Kagawa or Mata dropping back into the central midfield area in any given match. This is the sort of invention Moyes has refused to implement and the reason he has been criticised by some United fans.
If Kagawa is to get in the team it should not be on the left wing. This is an area of the pitch he is uncomfortable in and wastes his considerable talents. Indeed his former manager at Borussia Dortmund, Jurgen Klopp, lamented a few months ago: "Shinji is one of the best players in the world and he now plays 20 minutes at Manchester United – on the left wing!"
In the last five matches he has played against the German champions, Bayern Munich, Kagawa has not lost. Until this week's 1-1 draw in the Champions League quarter final first leg at Old Trafford he had not even drawn a game against them. This shows he has the temperament to play in the defining matches of the season, and if I was Moyes, he would definitely be starting in the return leg at the Allianz Arena next Wednesday.
So enough of the talk about Kagawa being used in any sort of part-exchange deal in the summer for the likes of Dortmund's Ilkay Gundogan or Juventus' Arturo Vidal. Kagawa should be starting for United as he is one of the few quality players Moyes has at his disposal. He adds creativity and vision to a team lacking in these areas. Like many United fans I simply cannot comprehend why Moyes, and Ferguson before him, are so reluctant to give him an extended run in the team.
Luke Gardener is a lifelong Manchester United fan and a regular writer on the club. You can follow him @LukeGardener82.
The article was kindly provided by Man United World, one of the biggest United fan resources on the web. You can read more of their articles at TalkingUnited.com or follow them @ManUnitedWorld.