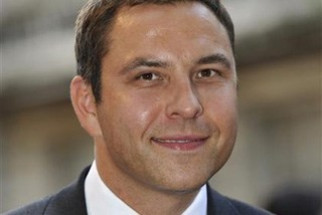 Little Britain star David Walliams has revealed that he attempted suicide twice while battling depression.
The 41-year-old comedic actor makes the shock admission in his upcoming autobiography, Camp David.
In the tell-all book Walliams, who is also a judge on ITV's Britain's Got Talent, also opens up about overdosing as a teen and slitting his wrists.
He insists that depression blighted his adult life and drove him to attempt to kill himself nine years ago after breaking up with his girlfriend.
A 2003 diary entry included in the book reads: "Just tried to hang myself. But I knew I didn't really want to die, I just didn't want to live. I took my weight with my feet and sat down.
"Earlier I had come close to stepping in front of a train. I am in total despair."
In another passage, he details a desperate suicide bid he made at the tender age of 12 after being bullied at Sea Scouts camp.
After running off into the woods with a makeshift noose, he says that he failed to go through with the act because he was "too tall".
The British star, who is married to model Lara Stone, also recalls swallowing painkillers in his late teens after he was rejected by a girl at university. He was found by his mum and rushed to hospital to have his stomach pumped.
"Wanting to die has always been in me," he writes.
Walliams made headlines last month after it emerged that he had checked himself into rehab at the start of his career to deal with depression following the breakdown of a relationship.
"Many people who suffer from depression confirm early morning is the worst time. At 4am you are totally alone. There is no one to call. Your friends or family tell you, 'Call me any time'. But at 4am you don't feel you can," he said.
"It was not just the terrible elemental sadness I felt, but fear. Fear of death, fear of life, fear of love, fear of everything. This went on for six months."
Camp David by David Walliams is published by Michael Joseph on October 18.