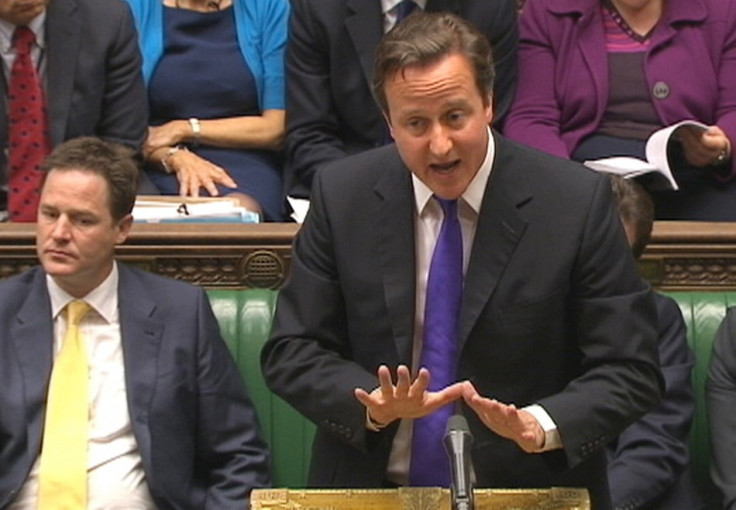 Prime Minister David Cameron will look to calm nerves within in his fractured Coalition government when he addresses the House of Commons Monday.
Cameron returned to the UK late Friday afternoon from the summit in Brussels, where he received congratulations from his Eurosceptic backbenchers having vetoed the new European Union treaty earlier in the day.
But the deputy prime minister and Liberal Democrat leader, Nick Clegg, who was telephoned at 4 a.m. Friday to be told of the veto, has attacked Cameron over his decision to reject the new treaty, calling the decision to pull away from Europe "bad for Britain."
The interview, which may have surprised Cameron after his deputy had initially appeared to support his decision, has forced the Conservative leader to make a statement to MPs in the Commons at 3.30 p.m. Monday.
Junior members of the Liberal Democrats are said to be "deeply concerned" by the unfolding events at the summit on Friday, which has put the UK on the "outside of a two-tier Europe," according to Clegg. The Lib Dem chief secretary to the treasury, Danny Alexander, told the BBC "Today" programme the government should now focus on not being the "odd man out" in Europe.
The deputy PM will meet with business leaders to discuss a pro-EU agenda in what he calls a "political pushback" against the Tory Eurosceptics.
Labour leader Ed Miliband has called on Cameron to use his statement to MPs to "explain why he did something that was so bad for Britain and bad for British jobs."
"He did this because the Eurosceptic wing of the Conservative Party has effectively taken over, and that isn't good for the national interest," the Labour leader said.