Follow IBTimes UK's LIVE blog of transfer deadline day here.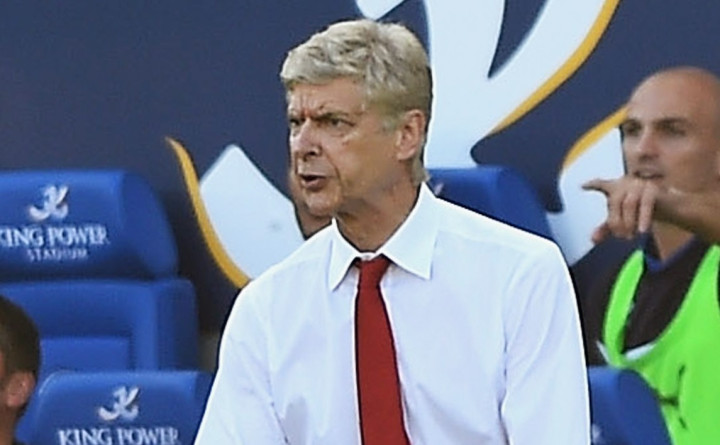 Arsenal manager Arsene Wenger has risked the further wrath of supporters by flying to Rome to referee an exhibition match on deadline day of the summer transfer window.
The Gunners boss has come under increasing pressure from fans and the media alike to sign a striker before the end of the window to replace the injured Olivier Giroud who is out until December.
During Sunday's 1-1 draw with newly-promoted Leicester City which saw forward Yaya Sanogo flounder in attack, Arsenal's travelling fans continued to appeal to Wenger to add a striker on the final day of the transfer window.
However, Wenger said following the game: "The solution every time you don't win a game is to buy somebody. We are out there and we try our best, you have to trust us to buy the best possible solution but as well everytime you don't win a game think there's a miracle man.
"Why did Man City not win the game against Stoke? They have plenty of strikers, football is a team sport and we have not got to sell it as an individual sport.
"I don't want to promise you what I am not sure to hold. I've worked long enough in England to know I don't like to promise what I'm not 100 per cent sure of as it doesn't depend on me.
"We can talk and talk and talk about signing someone or not. Could we win the game today without anybody [new signings], yes. We have plenty of strikers even when we had Giroud.
"When we had Giroud, you asked me the same question so it's a recurrence as long as the transfer market is open to make everybody dream by thinking the solution is always somewhere where it's not necessarily obvious.
"Is the amount of money we spend unlimited? No, because that's not the way we manage the club. We always try to make the right decision and we have the resources if we think it's the right player."
As the likes of Manchester United and Tottenham Hotspur attempt to add to their squads during the final hours of the transfer window, Wenger will instead be in the Italian capital ahead of officiating The Match for Peace, a game which aims to spread the message of religion in sport.
The move has led to droves of criticism of Wenger from Arsenal fans on social media, however supporters would be advised to recall that the Frenchman hasn't always played a central role in the club's biggest recent deals.
The Daily Telegraph reports that Wenger was in Rio where the club clinched deals for Alexis Sanchez and Mathieu Debuchy earlier this summer, while the 64 year old was at the annual Uefa conference in Geneva when Arsenal signed five new players on deadline day in 2011.
Though deals in the final hours of the summer window appear unlikely, Wenger's presence in Italy is unlikely to be the primary obstacle to moves being completed.