Follow IBTimes UK's LIVE blog of transfer deadline day here.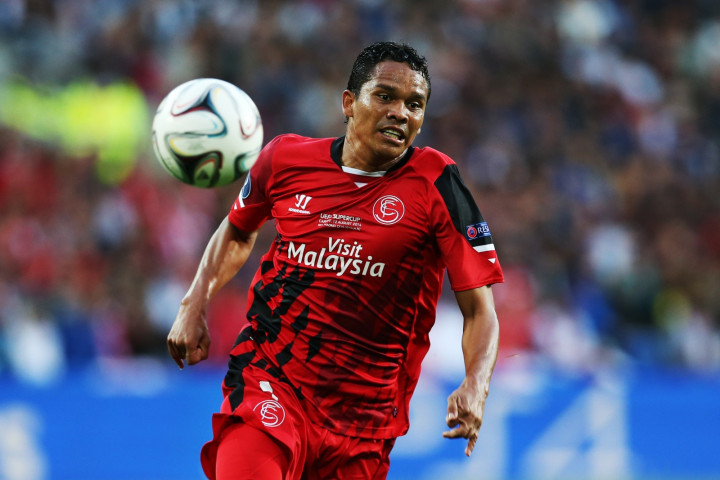 Carlos Bacca will not be joining Arsenal on transfer deadline day, according to Sevilla chairman Jose Castro.
The pressure is on Arsene Wenger to add another striker to his squad before Monday's 23:00 (BST) deadline with Olivier Giroud likely to miss the rest of the year through injury.
Reports on Sunday suggested the Gunners were considering an offer for Colombian international Bacca in a bid to resolve their lack of options at the forefront of their attack.
But Sevilla have rubbished suggestions the player will leave.
"There aren't bids for Bacca and we are not going to listen to them," Castro told reporters on Monday. "His salary increase is an internal matter and we are not going to take about it."
Wenger has maintained throughout the latter weeks of the transfer window that he is open to making further additions to his squad, but has stressed he will not be forced into make kneejerk decisions.
"We are very active – we are working hard to find a solution," Wenger said on Sunday. "Nobody can predict what will happen in the next 24 hours.
"The pressure to buy is always there. But let's not fool ourselves that the solution every time you don't win is to buy a new player – it would be too easy."
The Gunners were offered the chance to sign Ramadel Falcao from Monaco ahead of Monday's deadline but the club have opted to not pursue a deal for the Colombian international. Falcao is now set to join Manchester United on a season-long loan deal with the option of making the deal permanent next summer.
Wenger also confirmed last week the club were not looking to sign Manchester United striker Danny Welbeck, despite the England international being told he is free to leave Old Trafford by manager Louis van Gaal.
Falcao's imminent arrival at Old Trafford suggests Welbeck may still leave his boyhood club with Arsenal's north London rivals Tottenham Hotspur now favourites to sign him.