Huge storms ripped through northern Mexico and the south-western US, spawning deadly tornadoes and flash flooding.
A tornado raged through the city of Ciudad Acuna on the US-Mexico border, destroying homes, flinging cars into the air and ripping a baby away from its mother. At least 13 people were killed, authorities said.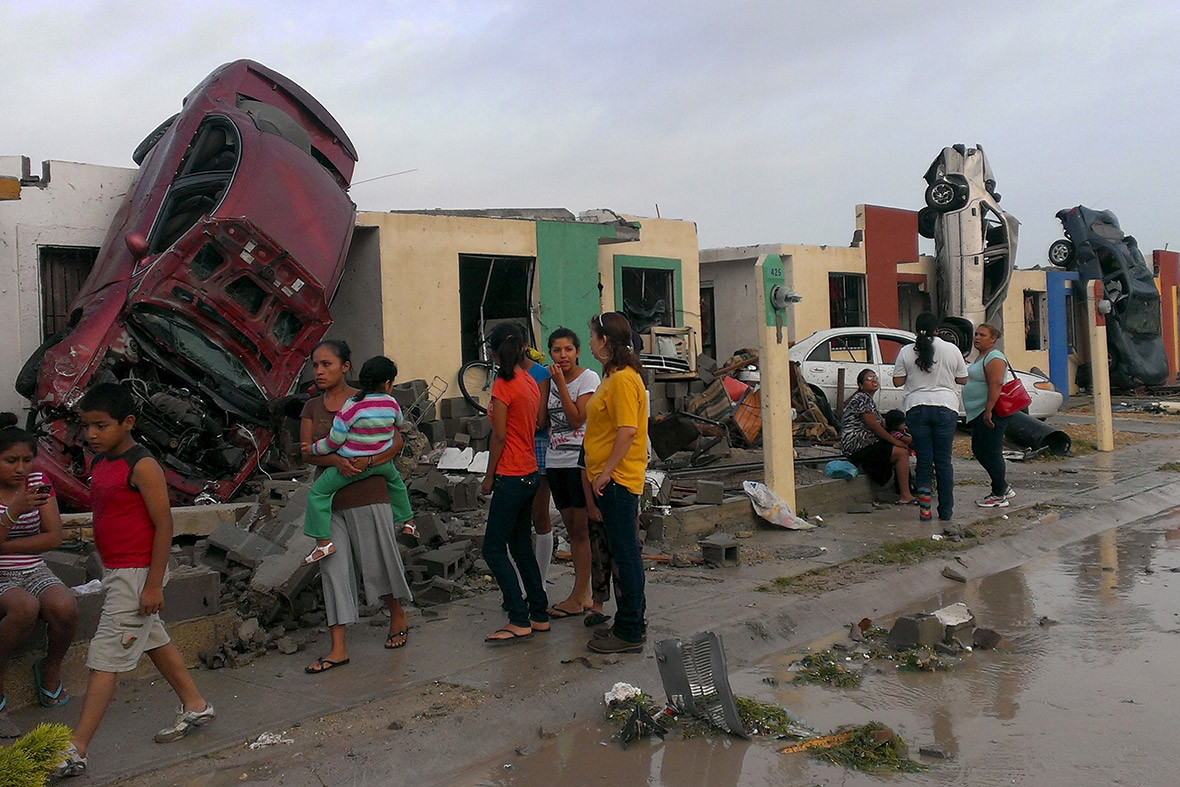 The Mayor of Ciudad Acuna, Evaristo Perez Rivera, said 300 people were treated at local hospitals after the twister hit a seven-block area, which Victor Zamora, interior secretary of the northern state of Coahuila, described as "devastated".
"There's nothing standing, not walls, not roofs," said Edgar Gonzalez, a spokesman for the city government, describing some of the destroyed homes in a one-square-mile area of the city.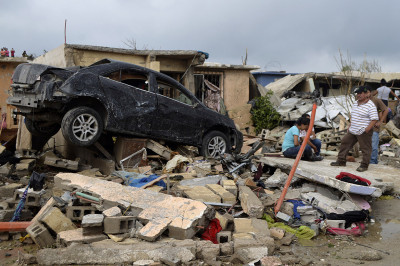 By midday, 13 people were confirmed dead — 10 adults and three infants. At least five people were unaccounted for.
Zamora said rescuers were searching for an infant who was missing after the tornado ripped the baby carrier the child was in from its mother's hands.
Residents reported seeing roofs ripped off buildings and cars thrown into the air as the devastating storm ripped through the town, which lies just across the border from Del Rio, Texas.
The twister struck not long after daybreak, around the time buses were preparing to take children to school, Zamora said.
Mexican President Enrique Peña Nieto said he planned to travel to Acuna later in the day with officials from government agencies.
Across the border in Texas, 12 members of two families are missing after a rain-swollen river carried a holiday home off its foundation, slamming it into a bridge downstream.
Trey Hatt, a spokesman for the Hays County Emergency Operations Center, said that the "search component" of the mission was over, meaning no more survivors were expected to be found in the flood debris along the Blanco River.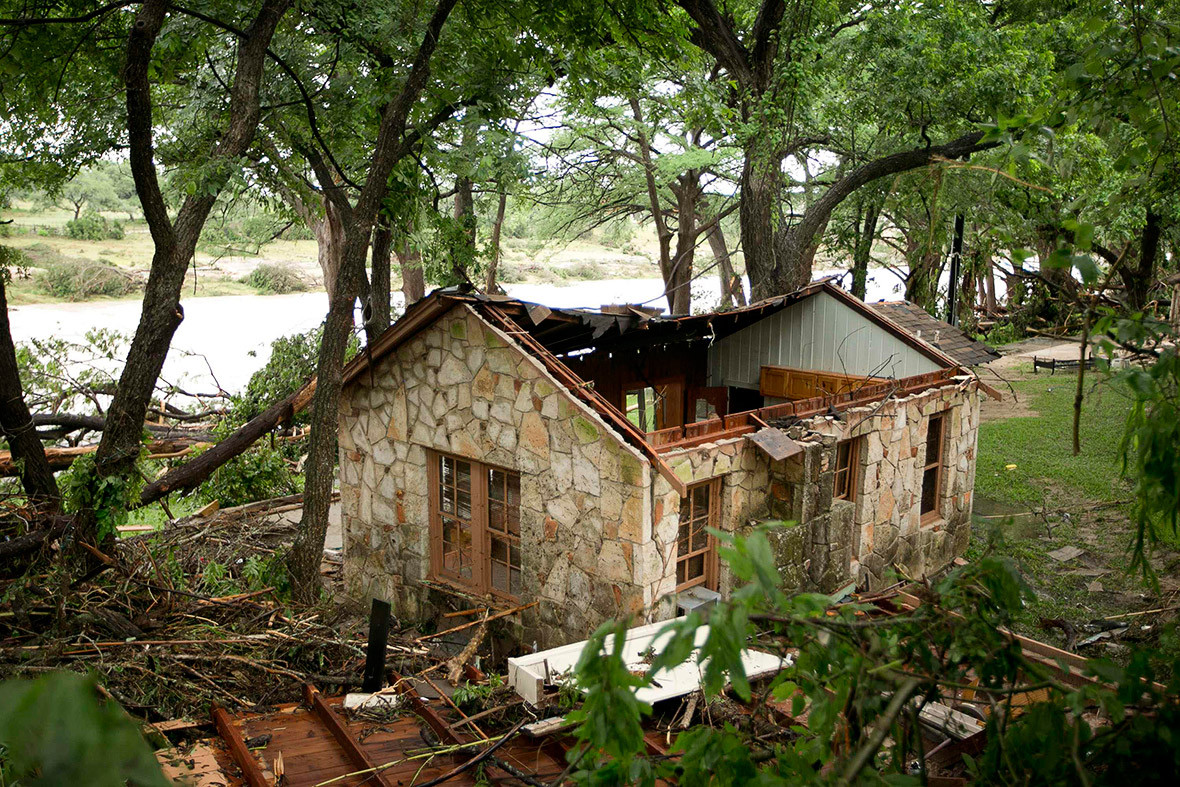 A line of storms that stretched from the Gulf of Mexico to the Great Lakes dumped record rainfall on parts of the Plains and Midwest, spawning tornadoes and causing major flooding that in Texas destroyed or damaged more than 1,000 homes and forced at least 2,000 residents to leave their homes.
"You cannot candy coat it. It's absolutely massive," Texas Governor Greg Abbott said after touring the destruction. He likened the ferocity of the flash flooding to a tsunami. "This is the biggest flood this area of Texas has ever seen," Abbott said. "It is absolutely massive – the relentless tsunami-type power of this wave of water."
He described homes that were "completely wiped off the map" by the weather system that struck Texas and Oklahoma.
The worst flooding damage was in Wimberley, a popular tourist town along the Blanco in the corridor between Austin and San Antonio, where the holiday home was swept away.
Witnesses reported seeing the swollen river push the home off its foundation and smash it into a bridge. Only pieces of the home have been found, Hays County Judge Bert Cobb said.
One person who was rescued said that the other 12 inside were all connected to two families, Cobb added. Young children were among those believed to be missing.
Hundreds of trees along the Blanco were uprooted or snapped, and they collected in piles of debris up to 20ft (6m) high.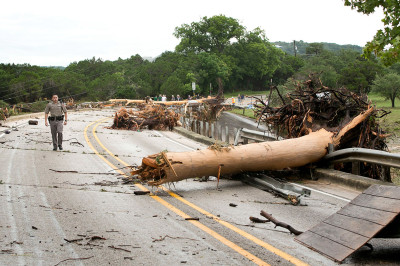 The National Weather Service issued a flash flood emergency for Houston, where more than 60,000 area residents were without power, according to CenterPoint Energy.
The storm system also prompted reports of tornadoes across the state and was blamed for four deaths: a man whose body was pulled from the Blanco; a 14-year-old who was found with his dog in a storm drain; a high school senior who died after her car was caught in high water; and a man whose mobile home was destroyed by a reported tornado.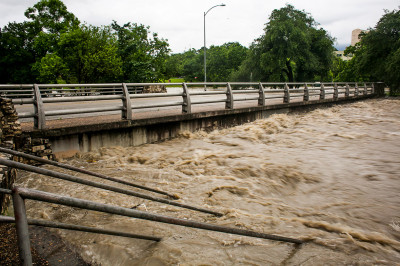 The Oklahoma Department of Emergency Management also reported four fatalities between Saturday and Monday (23-25 June) across the state, which also saw severe flooding and reported tornadoes.
The National Weather Service reported 4.5 inches (11.5 cm) of rain fell in 90 minutes at Marquette, in central Kansas, washing out roads.
Accuweather.com said more rain was forecast through Monday across eastern Texas and Oklahoma, bringing flash floods, tornadoes and winds of more than 65 mph (105 kph).