Pancake day is over, Valentine's Day too, which means the nation is now officially onto the 'what to give up for Lent' portion of the 2018 calendar.
Lasting 40 days, the Christian tradition associated with fasting and abstinence started yesterday. The top thing to give up last year was chocolate, The Sun reported.
For those not particularly religious, the British Heart Foundation (BHF) are challenging you to reconsider when and why you could give up chocolate.
As part of their latest campaign, Dechox, they're urging people to abstain from chocolate for the month of March. The charity hopes to raise £1.2 million for cardiovascular research to fight heart disease.
Chocolate might not seem such a big part of your diet to eradicate but wait until you hear the BHF's rules. Their campaign includes anything with cocoa in it so "chocolate sweets, treats, biscuits, ice cream, cake –even the chocolate sprinkles on your cappuccino are off limits" as they put it.
Adrian Adams, Head of Mass Participation at the British Heart Foundation, told IBTimes UK: "Last year, Dechox managed to raise over £1 million towards our life saving research, but this year we hope to smash that total.
"With the public's generosity we will fund half a billion pounds of research over the next five years towards fighting heart disease, which is why we urgently need more people to fundraise for us."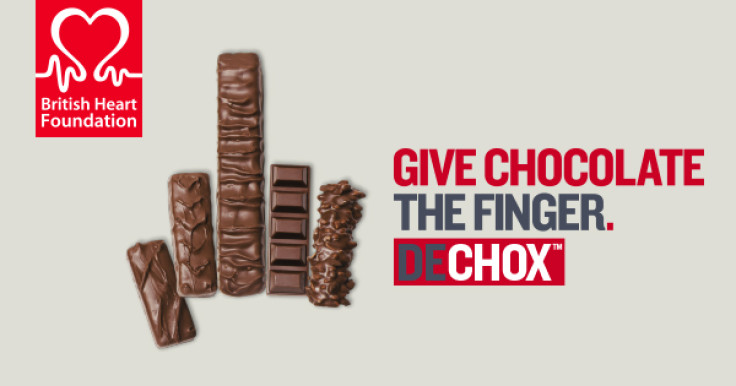 Each year, around 160,000 Britons die due to heart and circulatory disease – the equivalent to one every three minutes.
He added: "Chocolate is everywhere at the moment and remains one of the most popular sweets of all time! We know how difficult it can be to give up, but Dechox is the perfect opportunity to take on the challenge and go chocolate-free for a month, and we have lots of tips to help get you through."
Every year the BHF funds around £100m for heart research and that goes towards a number of projects. These include a new test for heart attacks, regenerating the heart and testing new treatments for hypertrophic cardiomyopathy (HCM) - a condition where part of the heart becomes thickened without an obvious cause.
For more information on how to sign up, visit their website.