Dele Alli named most valuable Under-21 player - Tottenham should demand £73m in transfer market
The England international above Kylain Mbappe and Ousmane Dembele according to Soccerex.
Leroy Sane, Gabriel Jesus, Marcus Rashford and Andreas Christensen the other Premier League players to feature.
Rankings based on age, position, current club, contract length, market value and technical quality.
Tottenham Hotspur and England midfielder Dele Alli has been named the most valuable Under-21 footballer in the world. A study carried out by Soccerex found that the two-time PFA Young Player of the Year is worth €82.6m [£73m] in the current market which saw him finish above several high-profile players in his age range.
Monaco's 18-year-old forward Kylain Mbappe was just behind the former Milton Keynes Dons man but is valued at €61.7m [£54.6m], some way below what the Ligue 1 champions are hoping to recoup this summer should the teenager depart. Fellow Frenchman Ousmane Dembele follows in the list, ahead of a trio of players also from the Premier League.
Manchester City's Leroy Sane [€51.1m] and Gabriel Jesus [€42.6m] are fourth and sixth respectively, with Manchester United striker Marcus Rashford [40.6m] seventh. Real Madrid sensation Marco Asensio, who scored in the Champions League final win over Juventus, separated the City pair in fifth.
The remainder of the list, compiled using information such a player's contract length, international experience, goals and technical quality, including just one other player currently playing in England in the form of Andreas Christensen from Chelsea.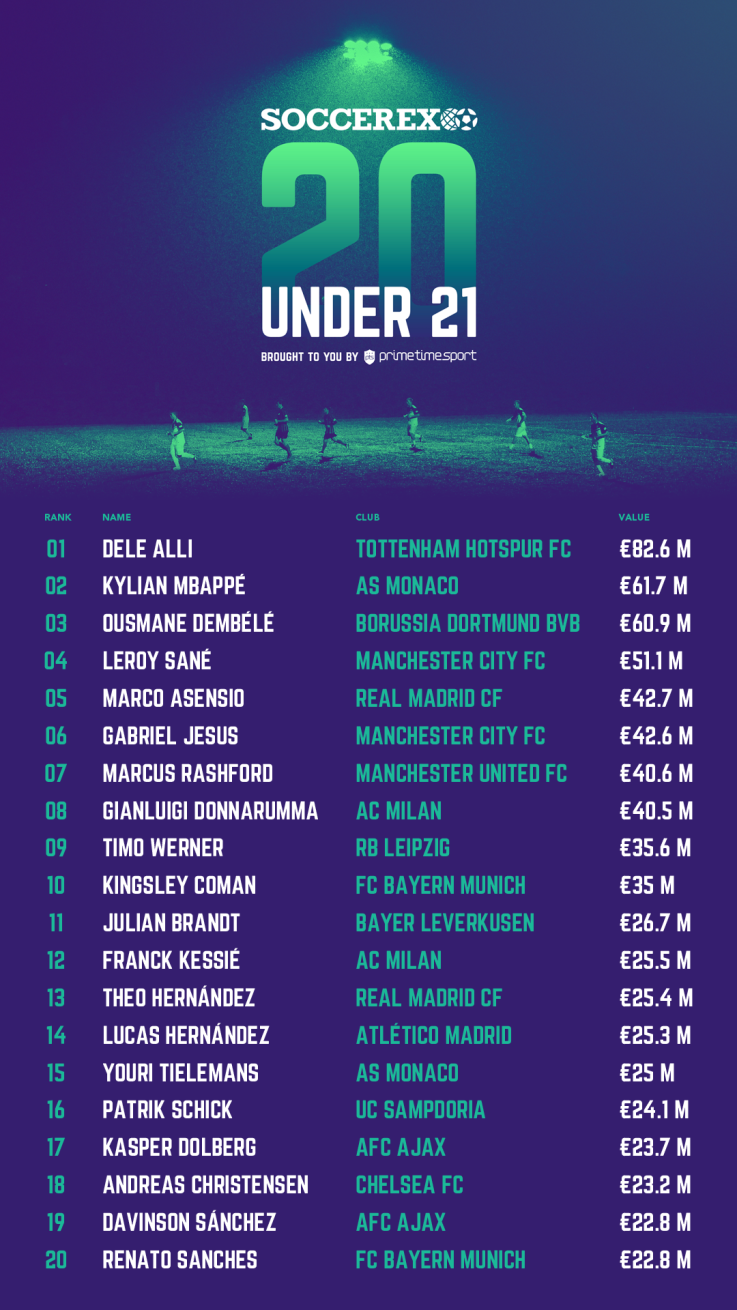 Soccerex
The Denmark international has made just three senior appearances for the Blues since joining them in 2012 and has spent the last two seasons on loan at Borussia Monchengladbach.
But the most striking detail from the list comes at the top with the inclusion of 21-year-old Alli at the summit of the rankings, underlining his status as one of the most exciting young talents in the world. Since arriving at Tottenham directly from League One MK Dons, Alli has scored 32 goals in 96 games and become a central figure for his country.
Such a rapid rise has seen him linked with moves to Real, with the 12-time Champions League winners reportedly interested in bringing the midfielder to Spain.
Former Tottenham boss Martin Jol believes Alli is close to being regarded as a £100m player, yet the recent released rankings suggest the club should consider anything around £70m for the most invaluable players in the game.
Speculation regarding Alli has dampened in recent months amid speculation he could sign another contract extension to keep him in north London. He is currently tied down to Tottenham until 2021 but a third successive season of success could lead to further rewards for his outstanding progress. Alli scored 18 league goals last term - only five players netted more in the top flight - as Mauricio Pochettino's side finished runners up but a second campaign in the Champions League and the challenge of assisting in a renewed assault on the title will test his ability once again.