Key Features
Windows RT
10.1in touchscreen; 1366 x 768; 155ppi
1.5GHz dual-core processor with 2GB RAM
32GB flash storage
Price as reviewed: £549 (£399 without keyboard dock)
Dell has embrace the launch iof Windows 8 fully and has used it as an excuse to expand its laptop line up in a major way with some unique new form factors such as the flip-screen Dell XPS 12 and now the tablet/laptop hybrid of the XPS 10.
As the name suggests, the XPS 10 features a 10.1in tablet running Windows RT, which is powered by a powerful Qualcomm SnapDragon chip paired with 2GB of RAM and 32GB of flash storage. My review unit includes a Dell keyboard dock, which adds extra battery life and connections, but also costs an additional £150.
Look and Feel
The back of the tablet and its keyboard dock are finished in a rubberised matte black plastic, with matching metallic plastic trim around the edge. It may not have the premium feel of an aluminium iPad, but the Dell is much less likely to slip out of your hand on a cold morning, thanks to the rubber finish being quite grippy.
At 630g, the tablet is 32g lighter than the newest iPad, a fact emphasised by the Dell's slightly larger screen (10.1in vs 9.7in). It's fairly easy to hold in one hand and you certainly won't notice the weight of it in a bag or satchel, although as with all tablets of this widescreen design, it feels strange to hold it in portrait. It's not a huge problem, just feels like you're holding up a large restaurant menu compared to the squarer iPad.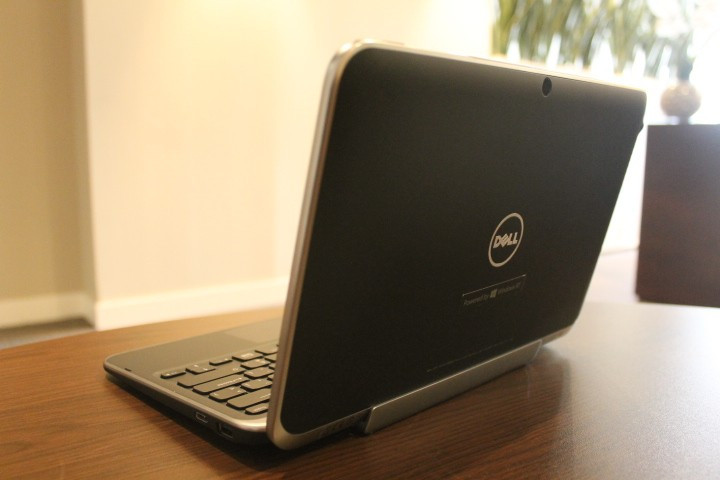 Around the edges of the tablet you will find a power button, headphone jack and volume rocker, along with a port for charging next to two speakers, a micro USB port, and two sockets for connecting the tablet to its dock. Finally, on top there is a microSD card slot behind an inexplicably large plastic cover, which feels quite flimsy.
There's a 2-megapixel camera on the front for video calls and a 5-megapixel camera on the back, although in my experience rear cameras on tablets seem pointless, as the smartphone in your pocket can almost certainly take better photos.
Adding the keyboard dock takes the overall weight up to 1.3kg, which still isn't bad, especially considering you get a usable keyboard, trackpad, additional ports and second battery from that extra 700g.
The extra weight of the dock means it is unlikely to tip over, as the Samsung Ativ Smart PC is prone to doing; the Dell can be used on your lap easily enough without fear of it tumbling backwards.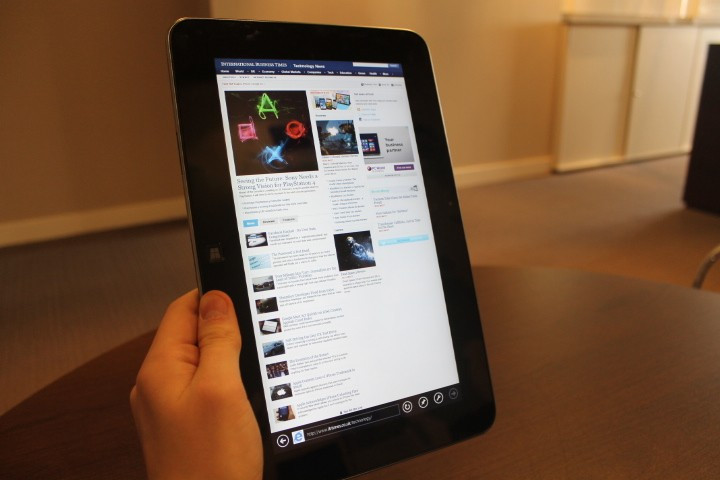 The dock has a USB port and proprietary charging socket on the left, and a second USB and mini HDMI on the right, meaning the XPS 10 can be hooked up to an HD projector or television.
While the dock feels solid and well made, the tabet creaks and flexes surprisingly easily. Although I like the rubberised finished of the back cover, there's a noticeable amount of give when you apply even light pressure to it.
It's not as if the tablets feels like it'll fall apart, but I was expecting more from the £399 price (£549 including keyboard dock).
Dell XPS 10: Keyboard Dock
The keyboard dock is a £150 optional extra and features the same rubberised plastic finish as the tablet. The keyboard itself is almost full-size and has loads of Windows RT-specific function keys for navigation, media playback, brightness and volume, and the trackpad is a good size.
Initially I found the keyboard to be comfortable to use, and could type quickly and error-free in no time, but I soon felt that there wasn't quite enough travel when pressing the keys, making typing uncomfortable after long periods of use.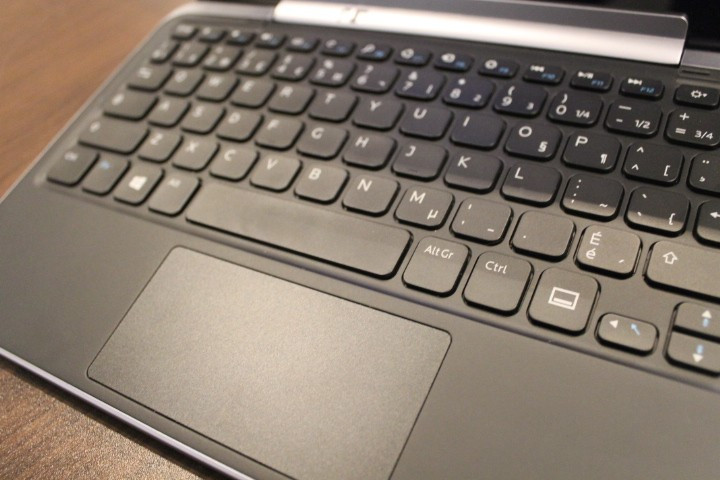 To fit so many function and punctuation keys Dell has had to make some compromises, and the most noticeable for me was the size of the Enter key, which is smaller than the shift key below it and occupies one row instead of the usual two.
The docking mechanism that locks the tablet into place could do with some work; it took me a few attempts to fit the two together and even when attached the tablet wobbles around a bit too much.
Although the trackpad is a good size considering the compact dimensions of the device, it doesn't work all that well. The cursor would jump around when I first touched it, be unresponsive to light touches, and the clicking mechanism is slightly below the surface of the trackpad, so pressing it a couple of millimeters doesn't do anything, forcing you to press quite hard for clicks to be registered.
Tapping the pad is still an option, and tapping or clicking on the right half performs a right click, but tapping to move windows around rarely worked, meaning clicking was usually my only option. Finally, there is two-finger scrolling (inverted by default) but no pinch-to-zoom.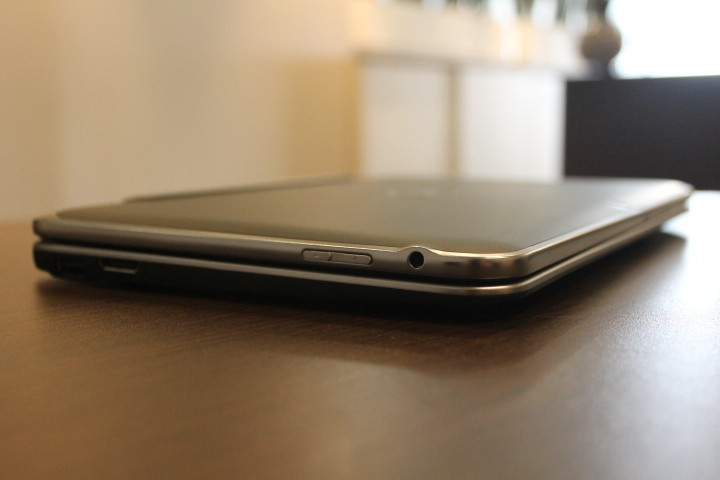 It's not perfect, but for £150 the dock transformers the XPS 10 from a tablet to a usable laptop replacement with an excellent battery life, enough ports to get by, and it makes the desktop side of Windows RT usable, as it can often be difficult to navigate by touch alone, as I found with the Acer W700 recently.
Display
The XPS 10 has, unsurprisingly, a 10.1in touch screen display, with a resolution of 1366 x 768 and a pixel density of 155 pixels per inch. These numbers are nothing to write home about and are some way behind the iPad and Asus Transformer Pad Infinity, but it's still a good screen thanks to using an IPS rather than a TFT panel.
Colours are sharp, blacks are deep, it's bright enough to fight off most reflections from office lighting and nearby windows, and its response to touch inputs is good.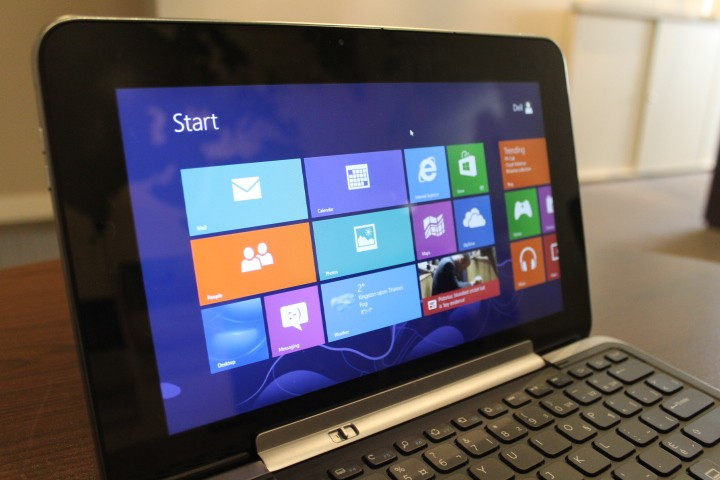 My only complaint with the screen of the XPS 10 is its huge border. I understand that it's there to provide a place for your thumbs when using the device as a tablet, and some Windows 8 gestures require you to swipe in from off the side of the screen.
But these swipes hardly take up any space at all, and I would rather Dell or Microsoft work on technology to detect and ignore unintended touches, as Apple does with iOS on the iPad mini. Of course, a small bezel would mean a smaller overall size, so the keyboard would have to shrink, and if the screen were any larger it would be more expensive.
The large bezel also makes the screen look smaller than it really is, and reflections caused by the Gorilla glass cover are more obvious.
As I alluded to above, the 16:9 widescreen aspect ratio of the Dell is good for laptop use and great for watching films and TV, but it makes the tablet a little strange to use in portrait, although it also means less vertical scrolling is required when browsing the web.
Performance
The Dell XPS 10 is powered by a Qualcomm dual-core 1.5GHz processor with 2GB of RAM and there is 32GB of storage, which can be increased via the microSD card slot.
Running Windows RT means the XPS 10 has full access to the tiled Windows 8 Start Screen, and while there is a conventional desktop, this can only be used to run the included Office suite, Internet Explorer, Notepad and Paint, as well as the Windows Explorer.
Although Windows 8 and RT devices look very similar on the outside, RT machines like this Dell are intended to be closer to tablet performance than traditional laptop, so gaming is more a case of Angry Birds and Cut The Rope, than Call of Duty and Crysis.
Idly flicking around the Start Screen isn't a problem, and HD video plays back perfectly. Switching between open apps is also performed instantly, although HD video streamed from YouTube would drop a few frames as it reopened, before returning to normal playback in a couple of seconds.
The tablet and keyboard dock have two speakers each, although they are of fairly poor quality. Each pair are loud enough, but realistically you aren't going to want to use them for long. When connected to the dock, high volume causes the keyboard to vibrate, which gets annoying when typing and listening to music out loud.
It's fair to say I haven't been that impressed with the XPS 10, but the battery life is something I must give Dell credit for. The company claims 10 hours for the tablet and an extra eight with the dock attached, and while the first figure seems quite optimistic (I found it was closer to seven hours), I found the keyboard dock to add an extra day's worth of regular use.
Of course, having two large batteries fueling a fairly low-power processor is obviously going to produce good results, but two working days of use is very good compared to all 'proper' laptops.
Conclusion
There simply isn't much here to get excited about. The screen is good (shame about that huge bezel), and so is the battery life, but beyond that the XPS 10 doesn't offer enough to stand out.
I think this is more a problem with the tablet/laptop/hybrid concept than any one product; none of these machines are as good as the best tablet or the best small laptop, and at £549 you could buy a proper Windows 8 laptop with a faster Intel Core i3 processor, 4GB of RAM and more storage, and a 16GB Google Nexus 7, one of the best Android tablets on the market.
Or, for £479 you can buy the 32GB Microsoft Surface RT with Touch Cover. The Surface has exactly the same operating system as the Dell, but has a much more attractive and better-engineered design, and the Touch Cover is surprisingly good.
Scores:
Screen: 8/10
Design: 8/10
Build Quality: 6/10
Performance: 8:10
Keyboard and Trackpad: 7/10
Overall: 7/10
The Good:
Battery life
Screen quality
Connectivity
The Bad:
Poor trackpad
Windows RT has its limitations
Questionable build quality