Key Features
11.6in display with 1920 x 1080 resolution
Dual-core, 1.8GHz Core i3 processor
64GB flash storage and 4GB of RAM
5-megapixel camera with full HD video recording
Included dock, stand, case and keyboard
Windows 8 Pro
Price: From £520
Acer Iconia W700: Introduction
The birth of Windows 8 and RT has given hardware manufacturers the freedom to be more creative than ever with how they blur the boundaries between computer, laptop and tablet.
We've already seen laptops with rotating screens and detachable keyboards, and tablets that are more at home sat on a desk than held aloft, and now we have the Iconia W700 from Acer - a tablet running Windows 8 Pro on an Intel processor, with a full HD screen and a quirky dock that adds three USB ports and a desk stand.
Acer Iconia W700: Design and Feel
There's a lot to get through here - the W700's huge box contains five separate items - the tablet itself, a folding leather case, a Bluetooth keyboard, the docking station and a detachable stand.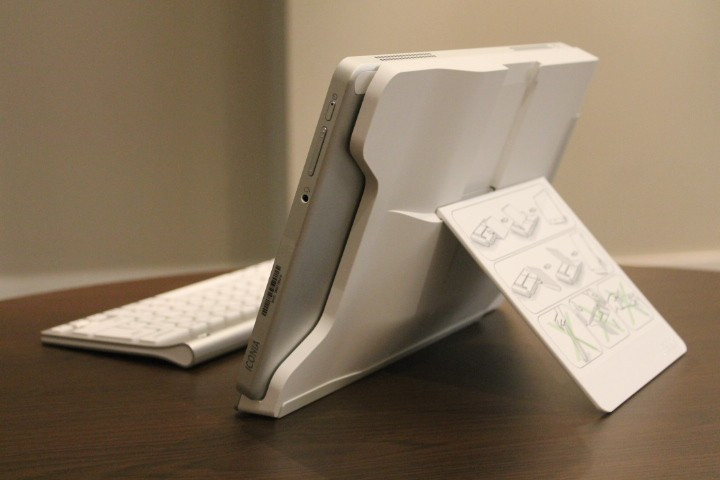 Made from a single piece of aluminium, the tablet feels very well made and durable, with no flex at all when held from a corner, although I suspect the metal finish will scratch easily, so that leather case could come in handy.
The W700 is intended to spend most of its time in landscape, so the front-facing camera, ports and vents are located accordingly. There is a power button, volume rocker and headphone jack on the right edge, ports for USB, HDMI and power on the left, two large cooling vents and a switch to lock and unlock automatic screen rotation at the top, and two speaker grilles on the bottom.
While the W700 isn't iPad-thin - it's 12mm thick - the tablet feels as light and slim as it could be, given its internals are more closely related to computer than tablet. The sense of quality and purpose that oozes from the tablet is instantly attractive - it's right up there with Apple-levels of craftsmanship.
Almost hidden behind the black screen surround is a VGA quality front-facing camera, and on the back Acer has installed a 5-megapixel camera with full HD video recording, although there's no flash and I can't really see anyone using the camera on such a large tablet.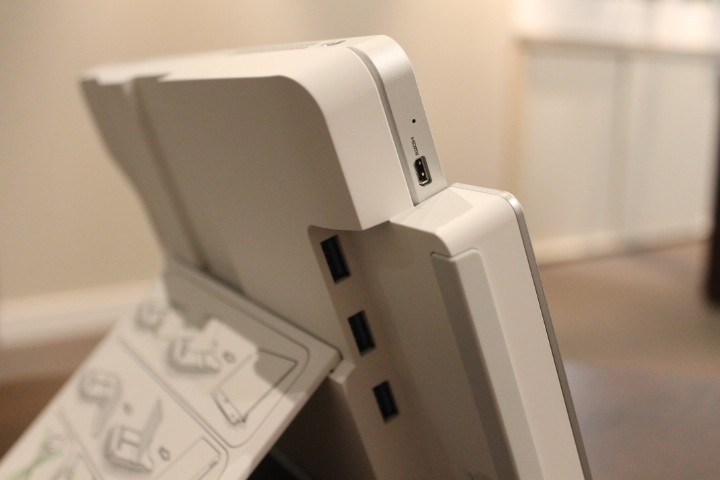 The dock may look like it's built from the same aluminium as the tablet, but on closer inspection it's actually just silver plastic, and the curious design is so that you can still access the volume controls and HDMI out port, and heat can escape from the large vents.
While perfectly functional - the tablet slides neatly into the dock, hooking up to a protruding USB port and power socket - it isn't the most attractive of accessories.
It's white and grey plastic finish with grey rubberised strips reminds me of something you'd find in a hospital - perhaps one of those TV stations that dangle over patients' beds - and I found it to be completely at odds with the cool, premium finish of the tablet.
Once connected, the dock is useful though. It provides three extra USB ports, while still allowing access to everything else.
The plastic foot can be attached to hold the dock up in portrait, landscape, or at a comfortable angle to type at, but sliding it into place gives you no real confidence that it's going to stay there.
The foot rattles around when attached in portrait, and when not attached there's nowhere to store it and it doesn't fold flat. Given it's sharp edges, I wouldn't feel comfortable leaving it too close to the tablet in my bag.
Safe to say, the docking station and stand do their job well enough, but are far from portable and feel light years away from the simplicity and engineering brilliance of the Microsoft Surface, with its kickstand. But, if those extra USB ports are important to you, then the Acer makes sense.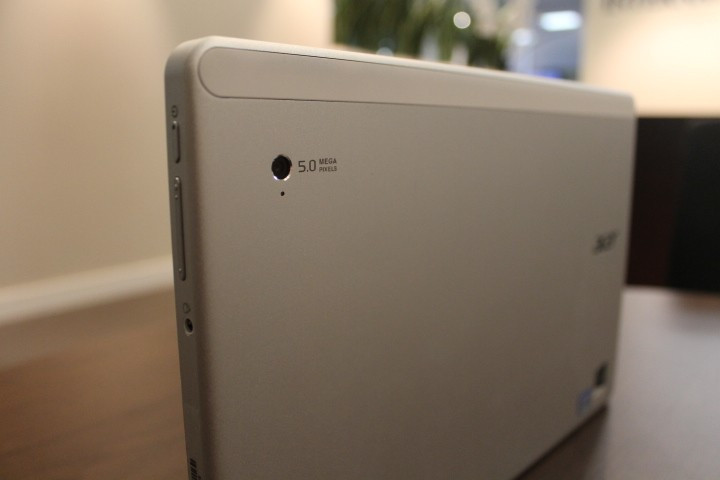 Included in the W700 package is a simple Bluetooth keyboard with separated Chiclet keys, media controls and function keys designed for Windows 8.
Finally, Acer includes an attractive brown leather case for the W700, but it's quite bulky and has to be removed when attaching the tablet to its docking station. However, the case folds in such a way that the tablet can be propped up on your desk.
Overall, the Acer Iconia W700 is a mixed bag; on one hand you have the excellent tablet, with a gorgeous HD screen, classy aluminium case and impressive sense of quality - but on the other there's the plastic dock with its cheap-feeling stand and strange design.
Acer Iconia W700: Display
The Iconia W700's full HD screen is very impressive, with bright and even backlighting, good colour reproduction and wide viewing angles. Touch inputs are dealt with quickly and the high resolution makes using the tiled Start screen an absolute joy.
But my experience with the desktop has been less memorable. The resolution is so high that text and icons on the desktop side of Windows 8 are too small to be used easily.
At first glance, the full Windows desktop on an 11.6in tablet looks great, but open up an internet browser or Microsoft Word and it's very difficult to press most icons successfully, and text is often too small to be read comfortably.
The resolution can be adjusted, of course, but this is operating system-wide, and so lowering it on the desktop (and therefore making everything larger, but a lower quality) has the same effect in the tiled Start screen, meaning lower quality and fewer tiles on screen at once.
It's a compromise you shouldn't have to make - and adjusting the resolution takes six swipes and taps from the desktop - so really the only solution is to use a mouse, which you can connect via USB or Bluetooth, it's just a shame Acer didn't include one in the box, as it does with the S7 touchscreen Ultrabook.
Acer Iconia W700: Operating System, Performance and Battery Life
With a 1.8GHz Intel Core i3 processor (i5 optional), 4GB of RAM and 64GB of flash storage, it wouldn't be fair to compare this tablet with most others. Anything running iOS or Android isn't really in the same league and, if I'm honest, they aren't targeting the same customers, or suited to the same tasks.
I'm not suggesting you go out and buy this and an iPad, but maybe think twice if you don't own a tablet, and are in the market for a new laptop, because the Iconia W700 could well replace it, and give you some benefits of having a tablet as well.
The tiled Start screen side of Windows 8 Pro on the Acer is excellent, with live tiles showing useful information like weather reports, unread emails and news headlines at-a-glance, and touch gestures are acted upon without lag.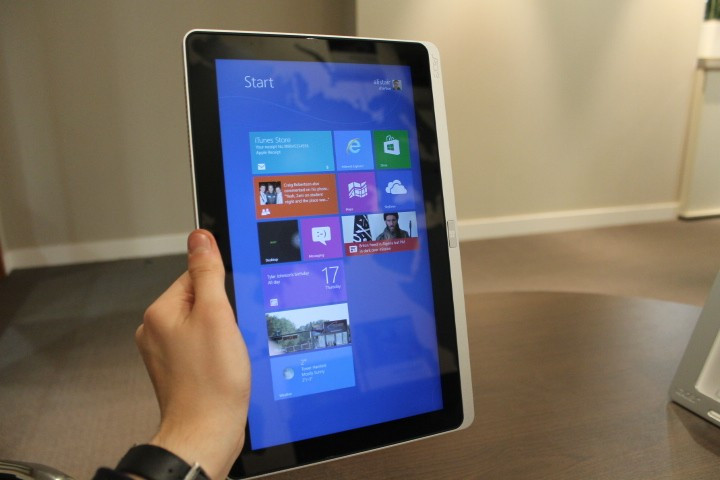 As with all Windows 8 devices, there is a learning curve, and navigating the tiled interface takes some getting used to.
There's no Start button on the desktop, and much of the tiled interface is controlled by swiping in from the screen edge, but once you've spent an afternoon learning the swipes and gestures needed, Windows 8 is a joy to use.
There are drawbacks though, and one is the time applications initially take to open. If you're used to the instant feedback of an iPad or high-end Android tablet, you'll notice that Windows 8 apps take a good few seconds to become usable, but once alive and multitasking in the background, they reopen for a second time as soon as you tap them.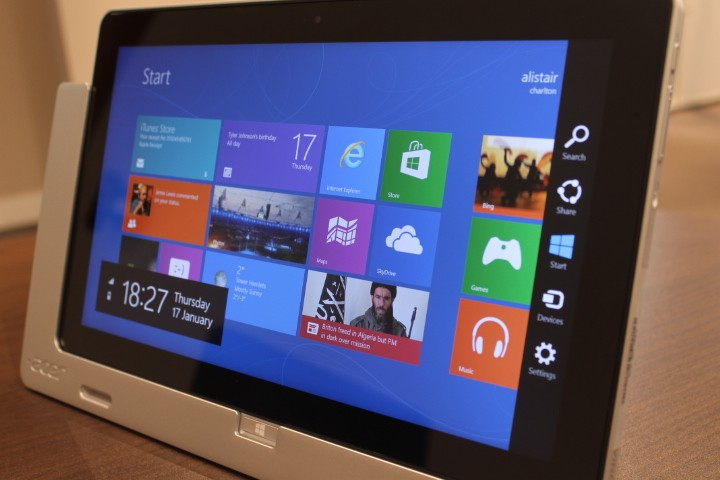 Performance on the desktop side of Windows 8 is just as snappy, with programs opening as quickly as they do on any modern laptop, and the rest of the experience is exactly that - this is a desktop environment for Office, Photoshop, iTunes and whatever else you'd use a computer for.
The HD resolution will have some users squinting or reaching for their glasses, and I doubt I'd want to spend a whole day working with such a high resolution on a fairly small screen, but for casual use it's fine.
Having used an iPad for three years, the urge to pinch-to-zoom on the Acer is huge, but sadly that isn't how Windows 8 works - at least in a general sense. Pinching will make Word and web pages zoom in, but the desktop as a whole will not change size.
Finally, I found the W700's battery life to be very impressive. I saw more than three days of basic use, and streaming video from Netflix with the screen at about 75 percent brightness returned almost seven hours of playback time.
Acer Iconia W700: Verdict
I had high hopes for the Acer Iconia W700. It was my first chance to see 'full' Windows 8 on a tablet, rather that RT on the Microsoft Surface, and in many ways it lived up to my high expectations of a £600 laptop/tablet hybrid.
The build quality and premium feel you get with the W700 is excellent - as good as anything Apple has to offer, and that's as high as industrial design praise can go - but it was let down by the docking station.
It wasn't just the cheap-feeling plastic and ill-fitting stand, but the very concept of the dock is something I couldn't see myself living with.
While the tablet is of course portable, the dock suggests this is a device you can use at your desk, as well as travel with, but this simply isn't practical. There's far too much stuff to cram into a bag, and the foot in particular is going to damage something in there sooner rather than later.
Compared to the sheer simplicity of the Microsoft Surface and its kickstand, the Acer's dock feels like a rough prototype, something that could be made much better.
Ignore the dock, and the W700 is a very impressive tablet with enough power to replace your laptop and a display to match any other tablet on the market - iPad included, even if the pixel count isn't quite as high.
Stuck somewhere between tablet and laptop, the Iconia W700 can't quite decide what it should be. As a tablet, it's well made, with great performance and an excellent screen, but its size and weight are problems. As a laptop, it has more USB ports than most Ultrabooks, good performance and impressive design, but the resolution makes the desktop too small and it's no where near as portable as a laptop or tablet, given the dock and stand have to be detached to take it anywhere.
A 64GB iPad with Retina display is only £40 cheaper than the W700, so although the dock isn't great, for those who want a tablet to be powerful more than portable, the W700 is still worth considering.
Scores:
Screen: 9/10
Design: 8/10
Build Quality: 9/10
Operating System: 7/10
Overall: 8/10
The Good:
Excellent HD screen
Very good battery life
Impressive performance for a tablet
The Bad:
Can't decide what it should be
Dock and stand feel cheap
Desktop needs a mouse or trackpad