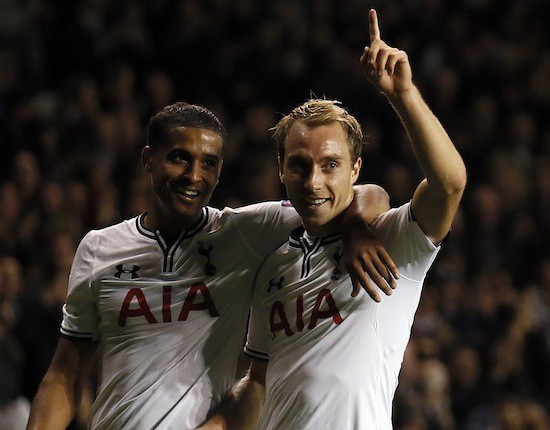 Christian Eriksen's recent absence from the Tottenham Hotspur first team came as a surprise to his national team coach Morten Olsen.
The £11.5m summer signing from Ajax was left on the substitutes bench while his side struggled to break down Norwich City last Sunday as Spurs toiled to 1-0 defeat at Carrow Road.
It was the third game in a row where the Denmark international failed to make Tim Sherwood's starting line-up, having sat out the 4-0 win over Newcastle United before coming on for the final 25 minutes as his side trailed to FC Dnirpo in the Europa League.
While understanding that managers have difficult decisions to make, Olsen admits he was shocked to see the 22-year-old left on the bench.
"Was it a surprise to see him left out? Yes, very much," Olsen told the London Evening Standard. "But I accept what my colleague chooses and I don't know what happens in training.
"Nevertheless, when Christian has played he has shown he is a player who can make the difference. He is a creative player and he can play in different positions and Tottenham have used him in different roles.
"If he doesn't have a very good day he can always perform for the team because he works very hard, and that's very important when you play 40 or 50 games in a season. I've seen most of his games for Tottenham and I think he has done very well.
"Everyone who comes to the Premier League has to adapt to the different pace of the game. He has had a great technical and tactical education, but the next stop after that is to play in one of the top leagues in Europe. The name of the game in England is speed.
"He has shown from the beginning, though, that he is the kind of player who can do well in England."
While the likes of Erik Lamela and Roberto Soldado have struggled since joining the club as part of Tottenham's attacking overhaul in the summer, Eriksen has enjoyed a relatively smooth start to life in north London, despite the seismic changes that have taken place at the club.
The midfielder has contributed four goals and four assists to his side's cause this season and his national team coach sees little reason why he can't enjoy the same success as his fellow Ajax graduated Wesley Sneijder and Rafael van der Vaart.
"Can he become one of the best players in England? He has the possibility. He has a tactical eye and he is a good technical player, but he also has a fantastic mentality. In Euro 2012, he didn't perform as well as he wanted to but he was always running like crazy for the team.
"He is an offensive, creative player but with his running ability and speed, he can be useful in a number of different positions, and he is certainly happy at Tottenham.
"When he was choosing where to move, I told him that Tottenham was a very good club. Traditionally, they have always played technical football, so it was a good move for them and a good move for him."