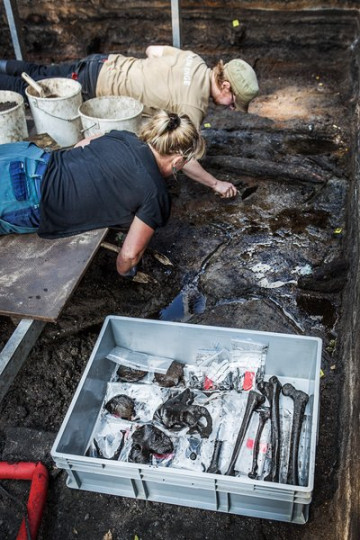 The bodies of fallen Alken Enge warriors in Denmark were desecrated after their deaths in a macabre religious act, archaeologists have said.
Six months after dying on the battlefield around the time of Christ's birth, their enemies stripped their bodies of flesh and threaded their pelvic bones onto sticks.
In 2012, Denmark became the focus of international attention after the bones of an entire army was discovered in the bogs near the Alken Enge wetlands in East Jutland.
Experts from Aarhus University, Skanderborg Museum and Moesgaard Museum have been working at the site ever since and have now found the disturbing details of what happened to the bodies after death.
Project manager Mads Kähler Holst said: "We have found a wooden stick bearing the pelvic bones of four different men. In addition, we have unearthed bundles of bones, bones bearing marks of cutting and scraping, and crushed skulls. Our studies reveal that a violent sequel took place after the fallen warriors had lain on the battlefield for around six months."
The battles near Alken Enge took place during the Iron Age when the Roman Empire was expanding north, resulting in wars between Romans and Germanic tribes.
Researchers believe the battle in Denmark stemmed from internal conflict, with Roman records documenting the gruesome rituals Germanic people conducted on the dead bodies of their enemies.
Flesh had been cleaned from the bones, which were then desecrated before being thrown into the lake. The bones were mixed with the remains of slaughtered animals and pots containing what is believed to be food sacrifices.
"We are fairly sure that this was a religious act. It seems that this was a holy site for a pagan religion – a sacred grove – where the victorious conclusion of major battles was marked by the ritual presentation and destruction of the bones of the vanquished warriors," Holst said.
Field director Ejvind Hertz from Skanderborg Museum added: "Most of the bones we find here are spread out over the lake bed seemingly at random, but the new finds have suddenly given us a clear impression of what actually happened. This applies in particular to the four pelvic bones. They must have been threaded onto the stick after the flesh was cleaned from the skeletons."