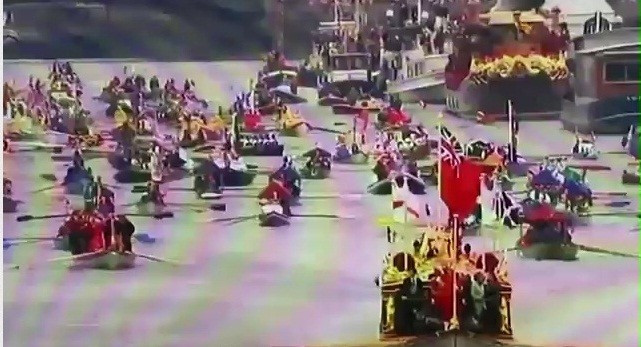 The damp weather notwithstanding, people gathered to watch the historic sight of a 1,000-strong flotilla of boats on the River Thames, as a tribute to the Queen on the occasion of her diamond jubilee.
Tagged as the biggest pageant held on the river for 350 years, hundreds of thousands lined up along the streets, looking to be a part of the occasion. The Queen, accompanied by Prince Philip and members of her family, led the river pageant aboard the royal barge - the Spirit of Chartwell, which was decorated with over 10,000 blooms, and carried the Queen, the Duke of Edinburgh, the Prince of Wales, the Duchess of Cornwall, the Duke and Duchess of Cambridge and Prince Harry - and accompanied by skiffs, barges, narrow boats, motor launches, row boats and sailing vessels.
The Queen looked elegant, decked in a silver and white dress, with a matching coat embroidered with gold, silver and ivory spots, for her diamond jubilee weekend. Prince William, meanwhile, was in his Royal Air Force (RAF) uniform while his wife, Kate Middleton, the Duchess of Cambridge, was seen in a red Alexander McQueen dress.
"We in Britain are experts at not letting the weather spoil our fun," Adrian Evans, pageant master for Sunday's flotilla said, "The London Philharmonic Orchestra will be playing 'Singin' In The Rain' as they travel down the river, and the crowd can sing along with them."
The Queen is the second longest serving British monarch after Queen Victoria. The four day diamond jubilee weekend celebrations kicked off on Saturday, as the Queen visited the Epsom Derby in southern England and received a special gun salute from the historic Tower of London.
The BBC diamond jubilee concert has been scheduled for the evening of 4 June, to be held outside the Buckingham Palace, with performances from Sir Paul McCartney, Sir Elton John and Stevie Wonder.
The events conclude with a thanksgiving service at St Paul's Cathedral on Tuesday, followed by a carriage procession along the broad Mall leading to Buckingham Palace.
Meanwhile, Lord Salisbury, Chairman of the Thames Diamond Jubilee Foundation was quick to thank both the Queen and the Royal family and the public for making the event a success.
"We would like to extend our thanks and appreciation to Her Majesty The Queen, the other members of the Royal Family and of course all those people who braved the elements to come out to enjoy our Pageant. We hope it was a fitting tribute to 60 years of service. I would also like to pay tribute to our Pageant team. It was a triumph of their professionalism and years of hard work," he was quoted as saying, on the Thames Diamond Jubilee Pageant's Web site.