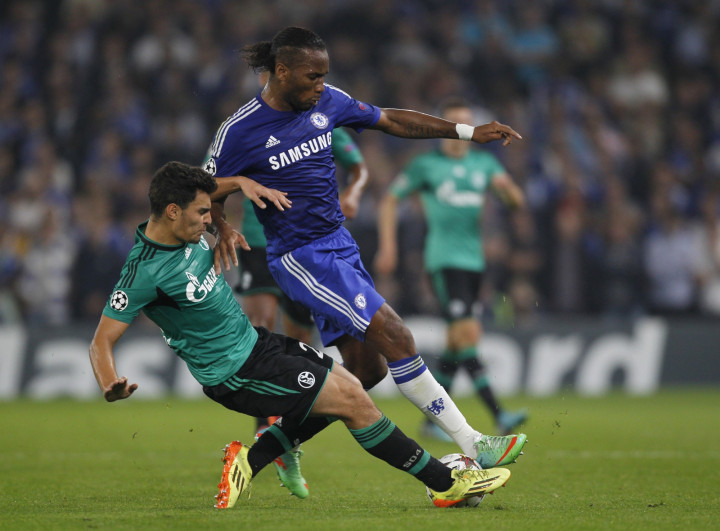 Chelsea forward Didier Drogba admits he remains short of match fitness after failing to inspire the Blues to victory in their opening Champions League group game against Schalke 04.
Drogba started the game ahead of Diego Costa but was unable to register as Klaas-Jan Huntelaar cancelled out Cesc Fabregas' early goal.
The 36-year-old spurned the chance to double Chelsea's lead in the second half before Schalke equalised. The striker admits he is someway short of his peak having recently recovered from an ankle problem.
"For my first game [my legs] were ok," he told Chelsea TV. "The good thing is there was no pain in the ankle and now I can start working and training and improving my condition.
"I was feeling much better in the second half, I am like a diesel [car] - I need time.
"The one in the second half was a clear chance and it's unlucky because if I score there, there is no more game and the fact that we did not score they believed and equalised and that's what happened."
Despite scoring seven goals in his first four league games, Costa was omitted from the Chelsea first team due to concerns over a hamstring injury, according to manager Jose Mourinho.
Though Costa is expected to be fit for the trip to Manchester City this weekend, Drogba could be used more regularly in Europe and Mourinho admits he needs more playing time in order to return to full fitness.
"Of course Didier needs more – he did his job. He had a positive game, he had good contribution," said Mourinho.
"If he scores that goal a couple of inches the other way [in the second half] we are standing here talking about Didier scoring again in the Champions League.
"Didier has lots of experience. He is not crying now because of that miss. He is stable and confident and we are all confident."