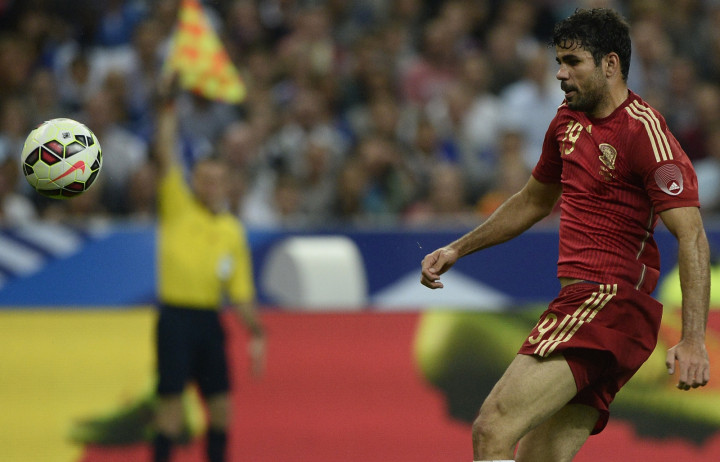 Chelsea forward Diego Costa's hamstring injury that forced his withdrawal from the Spain squad for the European Championship qualifier against Macedonia is not regarded as serious.
Costa went off in the 1-0 defeat to France last Wednesday and will not feature in the Euro 2016 qualifying opener, with the Spanish Football Association having sent the results of a scan to the Blues.
But despite fears the hamstring injury could affect Costa's hopes of being fit for the resumption of the Premier League against Swansea City, midfielder David Silva says the blow is not serious.
"I've spoken with Diego and, fortunately, it's nothing serious," he said. "These things happen in football."
A hamstring blow almost prevented Costa facing Everton in the final game before the international break, which saw the ex-Atletico Madrid forward score twice as Chelsea continued their 100% record at the start of the season with a 6-3 win at Goodison Park.
However, the beginning of Costa's international career has been in stark contract to his early success with Chelsea, having failed to score in any of his first five internationals.
But Silva is optimistic Costa will eventually repeat his Chelsea form for Spain and doesn't feel his side need to alter their traditional style of play in their new era.
"We will eventually start connecting with Diego Costa because he is a great striker," he added.
"With the kind of football we play, we have won two European Championships and the World Cup - I don't see any need to change our style," he said.
"We have players like Cesc [Fabregas], [Andres] Iniesta, [Santi] Cazorla and others who know what Spain has achieved with our formula.
"The new players will gradually start adapting and we will improve in terms of possession and passing. New players have been brought on board and all of us need to adapt."