Disney has demoed its first line-up of interactive, alternate reality children's toys at CES in Las Vegas.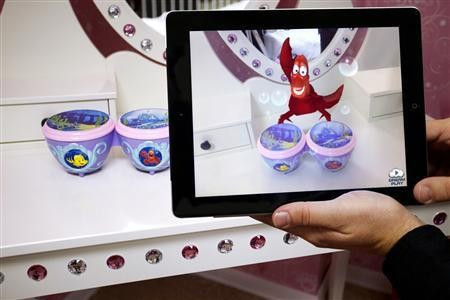 Follow all the latest news live from Las Vegas right here on our CES 2013: Live Blog
According to a report from Reuters, Disney has partnered with toy company JAKKS Pacific and Patrick Soon-Shiong, a former cancer surgeon and Los Angeles' wealthiest person to create "DreamPlay", an AR game that works via an app downloaded to Apple devices. With the app open, players can point their device's camera at a DreamPlay toy to trigger animations and other alternate reality interactions involving Disney characters.
Disney's CES demo involved a set of DreamPlay toy bongos based on the film The Little Mermaid. Pointing an iPad's camera at them showed Sebastian the crab, a character from the film, playing the bongos and singing a song. Other Disney characters are set to appear in DreamPlay games, though Disney has only confirmed that Tinker Bell, the fairy from Peter Pan, will feature in upcoming titles.
DreamPlay works via the cloud, with images and interactions stored on a remote server and streamed to mobile devices when the app is opened and the camera is pointed at the toys. President of Disney's consumer products unit Bob Chapek described DreamPlay as "magical":
"[DreamPlay] is a tremendous way to combine great technology and Disney's magical story-telling to extend the time a child can play with a toy," said Chapek. "Kids find out that playing with their toy doesn't end when they get it home."
DreamPlay is not the first alternate reality device to go to market recently. Sony's Wonderbook: Book of Spells released in November, 2012, allowing PlayStation users to interact with the Harry Potter universe and its characters using motion sensitive controls.
Sony is reportedly working with Disney to create games for its Wonderbook, though whether these will involve DreamPlay technology or established Disney characters is unconfirmed.
DreamPlay toys will reach American retailers in October, before spreading out internationally in 2014. No prices have been announced yet.