The art of diving is not an easy task to master. The best in the game will subtlety dangle their leg in order for the opposition to bite. The defender is blamed for getting to the ball too late, while the attacker is often praised for his clever play in winning a free-kick or penalty.
But what happens when there is clearly no contact? Well that is deemed simulation and referees are within their right to hand out a booking. At the weekend, two players came under the spotlight when they were accused of said simulation.
Tottenham's Gareth Bale and Luis Suarez both appeared to go to ground when no contact was made. The Liverpool forward has been vilified in recent weeks for his apparent tendency to exaggerate. Twice he believed he was tripped in the box, against Sunderland and Manchester United, yet no penalty was awarded and he was blamed for diving.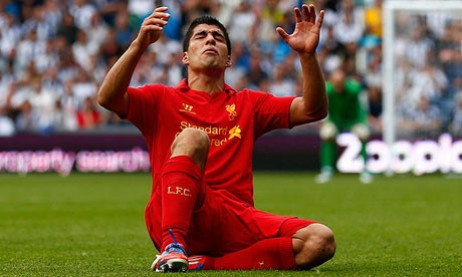 On both occasions it could be argued that there was miniscule contact; on one occasion the referee believed his actions were worthy of a yellow card. Following these incidents Suarez was denied a stone wall penalty against Norwich when Leon Barnett believed he was playing rugby and elbowed dropped the shoulder of the striker. It was a clear foul and yet Barnett had the cheek to ask the referee to book the striker for diving.
Perhaps the Liverpool striker's reputation preceded him, but what of Bale? He was the only player in the Premier League to pick up two yellow cards for simulation last season. In total there were 19 cards handed out, 11 more than the previous season when Javier Hernandez was the worst perpetrator.
Against Aston Villa the Tottenham winger was at full speed when Brad Guzan rushed out of goal and it seemed a collision was inevitable. The American keeper pulled out of the challenge and Bale was left with egg on his face as he slid across the turf for absolutely no reason.
The Tottenham star has not avoided the questions about his diving and after winning controversial penalties against Arsenal, and then again in the Cup against Stevenage, last season he was quizzed by journalists.
"If people want to say I'm diving they can, but at the end of the day I'm trying to get out of the way and save myself and my career. You've just got to try to be a bit clever about it. I've got a few people sent off this year by doing that," was the response of Bale.
Here lies the main problem. We already have a rule in place about simulation. It is a yellow card offence; therefore we cannot hand out bans for the same incident when it goes unpunished by a referee.
It is also nothing new. Diving has existed as long as football has been played. QPR favourite Rodney Marsh was interviewed by Shoot magazine about the subject back in 1971. His response was similar to that of Bale.
"I do dive, yes, but not in the way everyone means. I do have to fall in a certain way because I injured a shoulder when I was young, and so I've learnt to hit the ground in a certain way to avoid getting hurt."
Diving to avoid injury is a common theme. Cristiano Ronaldo was often subjected to ruthless tackles when he played in the Premier League and back in the 2007/08 season he was booked twice for simulation.
The real problem is that it is a grey area. Even the slightest touch could put you off balance and a referee has just a split second to make up his mind. There is also a tendency in the press to make more of the situation when it involves a high-profile foreign import.
Regularly we hear former British professionals claim that it never happened in their day. Even current England stars claim that it is a disgrace.
"I have never intentionally tried to dive ... It isn't fair for players to dive and try to cheat the other team. And it is not just cheating your opponents, you are cheating the fans as well" - United star Wayne Rooney.
"If I ever saw one of my team-mates diving, I'd definitely have a word" - Liverpool captain Steven Gerrard.
"I can speak about the England lads and I think it is something we don't do. We're too honest" - Chelsea skipper John Terry.
It is an issue which will never go away and without the controversy pubs across the country would be a quieter place on a Saturday night. We enjoy arguing our case about the teams and players we support.
We have a current system in place to deal with the matter. Let's just move on and deal with some of the bigger issues affecting our game.