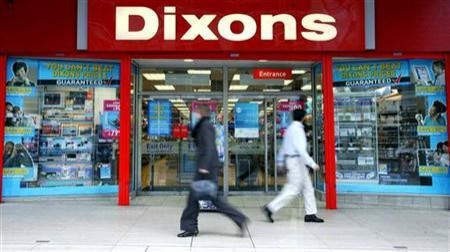 Dixons Retail, the European electrical goods seller, saw its UK & Ireland division return a first half profit for the first time in five years, as it benefits from the demise of rival store Comet.
Major summer events such as the London 2012 Olympic Games and Queen's Diamond Jubilee gave Dixons a boost in an otherwise difficult trading environment for UK retailers, and the group's performance across northern Europe was robust despite economic crisis in the eurozone area.
Sales in southern Europe fell, however, and Dixons reported another loss from its business in this area.
"I am particularly encouraged by our performance in the UK & Ireland and in northern Europe and we were particularly busy during the sporting and cultural events during the summer," said Sebastian James, Dixons Retail chief executive.
"While August and September were, as expected, a bit quieter, we remain cautiously optimistic about the outlook."
Like-for-like sales in the UK & Ireland were up 3 percent in the 24 weeks to 13 October, reported Dixons, which owns the Currys and PC World brands.
This helped lift Dixons to a £5.6m profit in the area, after posting a £6m loss in the same period the year before.
Northern Europe's like-for-like sales lifted 11 percent, pushing Dixons' profit in the region up by £2.4m to £40.4m
Southern European like-for-like sales plummeted by 9 percent to a £13m loss, though this is lower than the region's first half of 2011's loss of £15.6m
All in, the group fell to an underlying loss of £22.2m in the first 24 weeks of its trading year, down from £25.3m in 2011.
Dixons boss James said the company is "outpacing" its competitors and that the company will benefit from Comet going into administration.
Comet collapsed just a year after being taken over by OpCapita, a private equity firm, who paid just £2 for the ailing retailer, which had struggled to lure consumers away from cheap electrical goods deals online and in supermarkets.
Deloitte, Comet's administrator, has made around 2,000 redundancies across 240 stores. Just 70 Comet shops will be left trading at the end of December after the Christmas rush.
Turnaround specialist Clive Coombes, a 43-year-old consultant at CC Business Angels in Southampton, is reportedly looking at taking over the remaining Comet stores.
A spokesman for Dixons told IBTimes UK that they are "potentially interested" in aqcuiring "a handful" of between two and five Comet stores.