The electrical retail chain Comet will be calling in administrators next week, putting 6,000 jobs at risk across its 240 UK stores.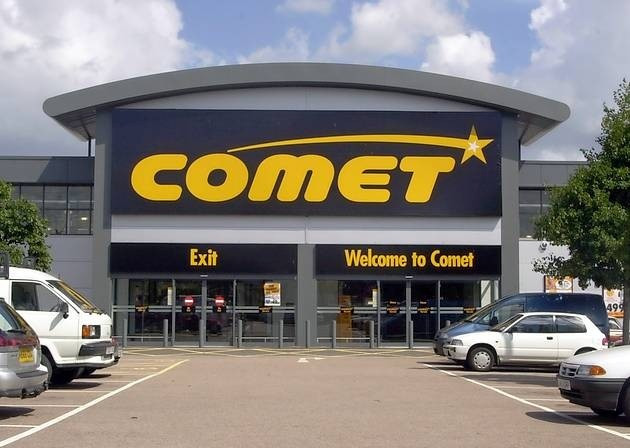 UPDATE 2: Comet's website states that a sale will be starting soon, with the following legal notice:
On 2 November 2012, Neville Barry Kahn, Nicholas Guy Edwards and Christopher James Farrington each a partner in Deloitte LLP were appointed Joint Administrators, and now manage the affairs, business and property of, Comet Group Limited.

The Joint Administrators contract as agents of the Company only and without personal liability. The Joint Administrators are authorised to act as Insolvency Practitioners by the Institute of Chartered Accountants in England and Wales (ICAEW).
UPDATE 1: Comet has sent the following statement to IBTimes UK:
"Comet Group Limited can confirm that it has today taken steps to seek the protection of the Court with a view to the Company entering into Administration during week commencing 5th November 2012. In the meantime the Board is urgently working with its advisers to seek a solution to secure a viable future for the Company."
A message sent to staff by Comet boss Rob Darke and seen by Retail Week has confirmed that the retail chain is "urgently" working with advisers to secure a future for it.
Retail Week added that administrators from Deloitte have been put on standby to take over control at Comet and find it a buyer.
Bought by private equity firm OpCapita last November for £2, Comet has struggled to overcome the downturn in consumer spending and, while it has an online presence, has been unable to compete with the likes of Amazon.
OpCapita is the same firm that saved Game Group from liquidation in February, when thousands of Game and Gamestation shops across the UK were under threat.
It is believed that Comet has been trading without credit insurance, which would protect its suppliers should the business fold. If this insurance is not in place, then suppliers will be wary about selling stock to Comet for the Christmas rush.
A similar problem forced Game Group into administration, when several major video game suppliers refused to deliver stock as they did not believe Game would be able to sell enough to pay them back.
Selling a wide range of electrical products from laptops and televisions to washing machines and games consoles, Comet has 240 shops across the UK and employs around 6,000 staff.
Some of the 200 staff at the company's Hull headquarters told reporters this morning that they were not aware of any financial problems, and the first they knew of the chance of liquidation was seeing reports on the morning news.
Consumer spending expert Martin Lewis urged his 170,000 Twitter followers to spend any Comet gift cards or vouchers they have immediately, as they will almost certainly not be redeemable if the company enters administration.
"Comet gift vouchers/cards may be worthless if it goes into administration. For safety spend in store today on things you can take away with you," Lewis said.
Competition from supermarkets is no doubt responsible for some of Comet's downfall, as they continue to stock more electrical goods, the dedicated store is becoming obsolete.
David Jones, chief market startegist at IG, tweeted: "Comet in trouble, Dixons made loss of £119m in last year. Will we have to buy electrical stuff on high street from likes of Tesco and Asda?"
Julie Palmer, a partner at Begbies Traynor, sent the following statement to IBTimes UK:
"Tensions are clearly high as we enter the challenging but vital Christmas selling season, which we expect could be a 'Russian roulette' period for retailers. With inventory levels at their peak for Christmas trading, combined with the impact of shoppers holding out for last minute price reductions, cash flow pressures on retailers already experiencing financial distress could push some beyond the point of no return."
If Comet is to go the way of Game Group and be saved by an 11th hour takeover, then administrators will look to close loss-making stores as quickly as possible in an effort to save the flagships and those that make a healthy profit.