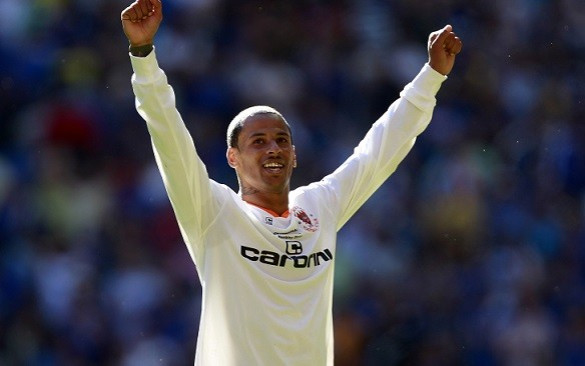 Blackburn Rovers striker DJ Campbell is confirmed to be one of the six people arrested on suspicion of spot-fixing in football league matches.
The former Premier League star was arrested following an investigation by the National Crime Agency following undercover reporting by the Sun on Sunday.
Championship Side Blackburn Rovers confirmed the 32-year-old's arrest. A spokesperson said: "Following reports in today's national media, Blackburn Rovers can confirm that striker DJ Campbell has been arrested.
"The club will be making no further comment on what is now an ongoing legal matter."
Campbell was one of six people arrested in connection with the spot-fixing investigation. It is believed officers will be investigating a yellow card he received after coming on as a substitute during Blackburn's game against QPR.
The 32-year-old - whose full name is Dudley Junior Campbell - played in the Premier League for Birmingham, Blackpool and QPR.
The arrests came after ex-Portsmouth player Sam Sodje was secretly filmed describing how he was paid £70,000 to get a red card in a League One game and could arrange for other players to get booked or sent off for money.
The former Nigeria international was sent off in the 50th minute for Portsmouth when they played Oldham Athletic last season.
Portsmouth said they were "shocked and saddened" at the claims by the defender.
Sodje's brother Akpo, a striker at Tranmere Rovers, had also said he would be prepared to be paid to be booked.
The club said: "Tranmere Rovers Football Club are aware of Sunday newspaper allegations regarding Akpo Sodje. As this is an ongoing investigation the club will make no further comment at this time."
It also claimed that Oldham Athletic player Cristian Montano was offered money to get a yellow card against Wolverhampton Wanderers on 22 October, but failed to do so. he club said they have been made "aware" of the allegations surrounding their player.
The Professional Footballers' Association (PFA) said: "These allegations, if proven, unfortunately demonstrate the real issue football faces in terms of corruption and highlights the necessity of the work carried out by the PFA and other stakeholders in the game in educating players of these risks.
"We take the issue of integrity very seriously and will continue in our efforts to eradicate this evil from our game.
"In terms of these specific reports, due to the ongoing investigation by the National Crime Agency, we are unable to comment further at this time."
A spokesman from the Football Association said: "The FA is aware of the National Crime Agency investigation and is working closely with the NCA and other authorities. We will make no further comment at this time."
The NCA is already carrying out a separate investigation into an alleged international illegal betting syndicate.
Non-league footballers Michael Boateng and Hakeem Adelakun, who play for Whitehawk FC, have been charged with conspiracy to defraud.