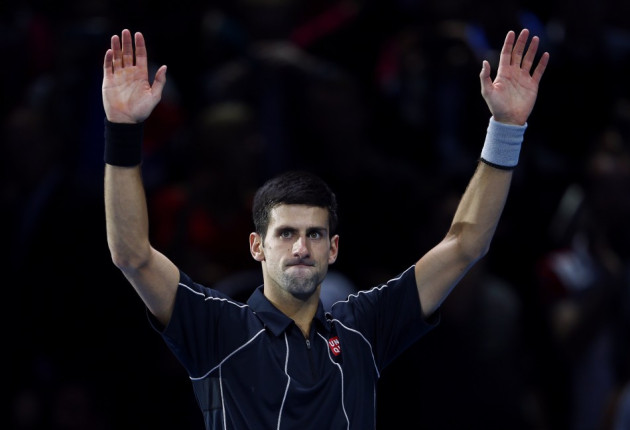 Novak Djokovic faces Stanislas Wawrinka in the second semi-final at the ATP World Tour Finals at London's O2 Arena.
Where to Watch
Novak Djokovic v Stanislas Wawrinka is live on Sky Sports HD3 no later than 8pm GMT.
Preview
Defending champion Novak Djokovic takes on Stanislas Wawrinka in the second semi-final at the ATP World Tour Finals in the latest chapter of the pair's remarkable rivalry in 2013.
The duo's meeting at the Australian Open last 16 stage and US Open semi-final were among the finest matches of the season, with Djokovic prevailing in five sets on both occasions. Wawrinka has enjoyed the most successful year of his career, emerging from Roger Federer's shadow to reach the last four on his tour finals debut.
While Wawrinka required Rafael Nadal to beat Tomas Berdych on Friday evening to qualify, Djokovic reached the semi-final without getting out of second gear, winning all three of his round robin matches against Roger Federer, Juan Martin del Potro and Richard Gasquet and looks on course to defend his title from 2012.
Of their 16 meetings, Djokovic has won the last 13 dating back to 2006, including four times in 2013 most recently at last week's Paris Masters, a title the world No.2 went on to win; one of six this year.
Wawrinka will finish inside the world's top ten for the first time in his career this year and has one tour victory to his name in 2013, beating David Ferrer in Oeiras. Already breaking new ground by qualifying for the season finale in London, and by reaching the semi-final, an appearance in the final on Monday would represent an astonishing end to the year for the Swiss.
What they said
Novak Djokovic: "I knew coming into this match that I qualified for the semi-finals, and even though I really wanted to perform at my best Richard came out really aggressive and I didn't move too well. Richard has one of the best backhands on the tour. It was a pleasure to play against him and I wish him all the best."
Stanislas Wawrinka: "It's amazing week for me already. I had to win against Tomas Berdych, No. 5, David Ferrer, I lost a tough one against Nadal. At the ATP World Tour Finals, it was quite good level for me. That's the most important. I can be only really happy with the tournament.
"I lost against him (Djokovic) quite easy last week in Paris. He was playing really good. But I had the feeling when I arrive here, for me, because I didn't play here, it was a little bit like Davis Cup. You have important match against big player, but if you lose the first one, you're not out of the competition."
Day 1 review: Wawrinka and Del Potro clinch opening wins
Day 2 review: Nadal thrashes Ferrer as Djokovic Outlasts Federer
Day 3 review: Nadal secures world No.1
Day 4 review: Djokovic powers through as Federer Retains Hope
Day 5 review: Wawrinka sets up Djokovic semi-final
Day 6 review: Federer Books Nadal Clash