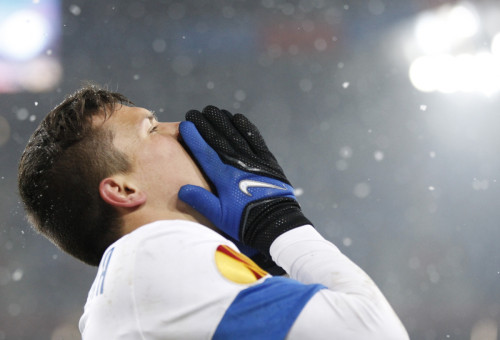 Dnipro executive director Andriy Rusol has revealed that the Ukranian side are still open to negotiation with Liverpool for Yevhen Konoplyanka and encouraged Brendan Rodgers's side to renew their attempts to sign the winger in the summer.
After failing to secure Mohamed Salah, the Liverpool boss was keen on bringing the Dnipro star to Anfield and although Ian Ayre travelled to Ukraine on deadline day to complete the deal, the transfer collapsed - leaving the Reds with no signings at all during the January window.
Nevertheless, Rusol believes that the negotiaions are not over and that Konoplyanka will move to Liverpool this summer.
"I am a thousand percent sure that Liverpool will try again in the summer and then we'll let him go," Rusol said to Ucranian media outlets.
Some reports suggested last Friday that Dnipro's owner Igor Kolomoisky blocked the sale of his star, but Rusol denied that and revealed that it was just a matter of time.
"Money was not the problem, the problem was that Liverpool came too late.
But in the summer everything will be fine. If Liverpool, in the summer, report to us, Yevhen will still go to this club."
At the beginning of the week Rusol already explained the situation claiming that Dnipro did not sanction the deal because Liverpool did not send the money on time and criticised Ayre for that.
"Igor Kolomoisky gave the go-ahead immediately. It is not our fault, Liverpool representatives could have arrived a day or two earlier.
"Up to the deadline we were waiting for the transfer of money from Liverpool. But this did not happen."
Rodgers has also claimed that the Reds may go back for Konoplyanka in the summer.
"If we feel he can improve us, we are a professional club" Rodgers said. "There will be a greater market to look at then but it wouldn't stop us. It is of no consequence now. I don't focus on that. There is no point in me looking back."