The 'Tripadvisor for healthcare' has been launched in London and the South East, allowing patients to pick their own doctors and review them. Doctify was created by two NHS surgeons who recognised the minefield encountered by patients looking for private healthcare.
Stephanie Eltz, an orthopaedic surgeon and one of the founders of Doctify, discovered a pre-cancerous mole and wanted to find a dermatologist who could see her on one of her days off – a task that proved more complicated than she first anticipated. "Despite the fact that I was working as a surgeon in London myself, I was completely lost," she said in a press release. "I felt that relying on a simple search result on Google couldn't be the only answer. It's an area in your life where you need to be sure that you make the right choice."
That was when she teamed up with Suman Saha – a fellow orthopaedic surgeon – and Daniel Jung – a management consultant and financial advisor, to create the healthcare platform. While currently limited to London and the South East, Eltz told IBTimes UK they plan to expand further across the UK next year – and possibly one day into other countries.
Doctify is pretty straightforward. You can search for doctors in your area by specialism then pick whichever date works for you. You can pick through insurers (if you have private health insurance) or chose to pay yourself. The private healthcare system in the UK is a bit complicated. Normally different insurers work with different doctors, so Doctify has a filter so users can find consultants they are covered by instead of being directed by the insurance company.
"I don't think you have the information to make the choice and that's the key," Eltz said. "I think people should control who they see."
Private vs NHS and the cost of treatment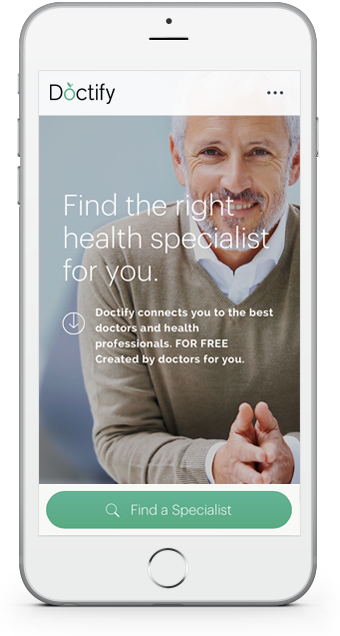 As an NHS doctor, Eltz had noticed many patients looking to the private sector to speed up their treatment – a move that she believes relieved pressure on the NHS. "I work in the NHS, I love the NHS. But I often see patients in clinic who would be interested in doing part of their treatment outside," she said. "For example instead of waiting for two months to get an MRI scan, they wouldn't be against paying for that and getting it within a few days. But they just don't know where to go or what to do.
"If those patients had an easy solution they would be happy to speed up treatment or to have whatever they need quickly. And the end result is to take off some pressure off the NHS."
She also said in the future they hope to work with the NHS to improve the medical system in the country and to remove the barrier between the two sides. "I think the two can work hand in hand rather than be this sort of animosity. I don't think that's right."
At the moment, the majority of Doctify users are "cash payers" rather than people with private health insurance. Sometimes it involves looking for a second opinion, or just someone feeling anxious and wanting to see a doctor near to them with the first possible availability. It also give people who are willing to pay for additional treatments, such as extra physiotherapy.
Prices are upfront, Eltz added. "There is a bit of a taboo around price in medicine but I think this is improving," she said. "You have to know the cost up front. I've never booked anything without knowing how much it costs beforehand." At present, the customer service department is working to ask doctors listed with Doctify to put their prices up – and all are agreeing so far.
"It's simplifying it and empowering patients to make a choice themselves, to give them as much information as possible," Eltz continued. "So specialist interest, for example. It's quite difficult to find out who is interested in specific conditions. So you can search and be linked to certain doctors if you have a certain condition – even if it's complicated. What the system allows already and will allow more and more is directly being linked with people in the country that deal with this condition. And I think this is invaluable."
Reviews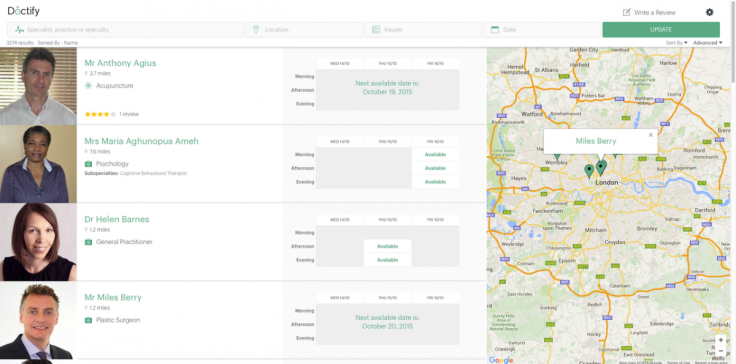 One of the key features of Doctify is that users are able to review the doctors they see. The idea of reviewing a doctor seems a little unusual, given the private and personal nature of healthcare. But Eltz assures it is not like leaving a scathing restaurant review online – all reviews are moderated before posting and they have to stick to extremely strict guidelines.
Patients cannot comment on clinical outcomes, for example. They cannot reveal confidential information and all reviews are anonymous. Patients are, instead, encouraged to comment on things like bedside manner. Reviews are anonymous and the doctor is able to leave a response. So far feedback to the review system has been positive – from doctors and patients alike.
"I was worried the doctors wouldn't be happy with reviews and would be anxious about it, but it's absolutely not the case," Eltz said. "So many doctors said they were happy to have a transparent and independent review platform. They need that and are looking for it."
Recent research published in Academic Medicine showed that an increasing number of people in the US are consulting online doctor rating sites when looking for physicians. Researchers from the University of Utah Health Care found a link between good patient satisfaction and good patient outcomes. More so, it also showed sharing patient satisfaction led to a culture of trust, communication and empathy.
"Maybe because there's quite a bit of difficult press around the NHS or medicine in this country in general, we've completely forgotten how thankful most patients are to their doctors in general once they have seen them, dealt with anxieties and looked after them. Most doctors do the job because they want to help people and they do that with passion. So far we haven't had a negative review but if it happens I won't be worried at all. It will be displayed."
Next steps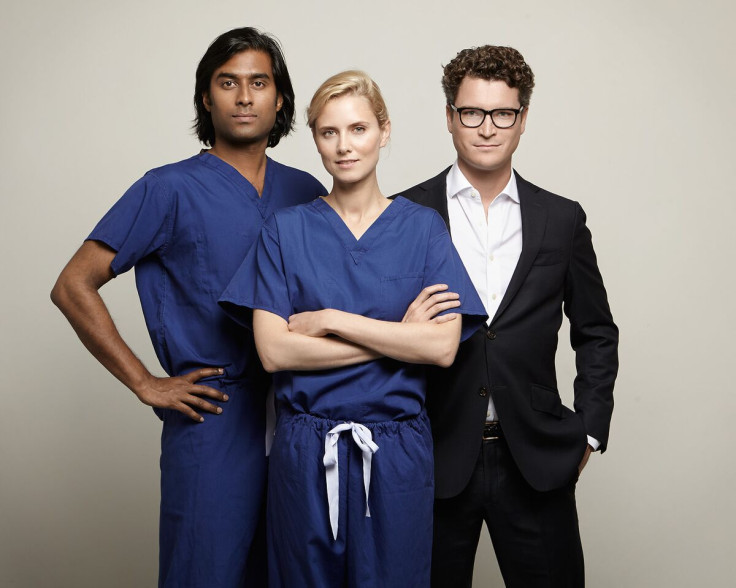 When asked what the biggest challenges or problems they had encountered setting up Doctify, Eltz said they have been few and far between: "It's been so successful since the launch. Our expectations have been met and we are doing far better than what we thought in terms of doctors coming on and patients engaging. I really think that times are changing and that the medical world is accepting digitalisation and embracing it. It's a general movement at the moment and somehow we got the timing right."
On social media, the response has been largely positive – they had one negative Facebook post, but this was challenged by two other users defending Doctify. And doctors are also getting on board, with many professionals signing up to be part of the system. "I was worried about doctors not coming on, but they're embracing this tool and they're engaging with it and they're excited about it."
However, more work needs to be done, she said. "I think our challenge will be to make it an integrated platform where it goes hand in hand between NHS and private and improves everyone lives, makes them easier and that's my challenge.
"I don't think Doctify will drive people away from the NHS or increase the private market, it will just help those who are already looking for help in that area. I don't think it will change any of that. But I think it's also a way of placing a value doctors. What' we're passionate about is creating a connection between doctors and patients. If you strip down everything, it is such a beautiful relationship outside of the frustration of the system, and I think Doctify will help put a light on that."