US president Donald Trump was among the most searched for celebrities on Pornhub last year, beating out the likes of Harry Styles, Avril Lavigne and Serena Williams with 424,930 total searches.
On Tuesday (9 January 2018), Pornhub's annual insights report – which details major trends of the past 12 months – suggested that the outspoken commander-in-chief was a sought-after search term for hundreds of thousands of the website's randy viewers.
Both daughter Ivanka Trump and wife Melania Trump both placed much higher on the list in 2017, with 1,103,086 and 1,049,472 searches respectively.
The Donald lagged well behind reality TV star Kim Kardashian, singer Selena Gomez and YouTube personality Lena the Plug but was still more popular than footballing superstar Cristiano Ronaldo.
Searches for the soon-to-be royal Meghan Markle shot up by 5908% on 29 November, the same day that Prince Harry and the actor announced their engagement.
Public searches for Beyonce, meanwhile, surged on the day she announced on her Instagram profile that she was having twins. But it was not just real men and women topping Pornhub's charts, with both movies and video games remaining popular search topics for adults last year.
The list of movie character searches displays an apparent rivalry between Marvel superheroes vs. DC characters, Pornhub said. The character of Rey from Star Wars (portrayed by Daisy Ridley) ranked high thanks to the release of 'The Last Jedi' – a massive 736% bump in searches.
Wonder Woman shot up by 281% on the film's premiere date last year, landing her with the second highest number of searches on the list for 2017. Brooding comic book legend Batman came in at third position, enjoying a 1595% boost year-on-year.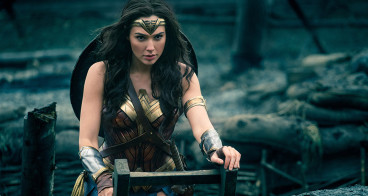 Multiplayer shooter Overwatch had the most searches within the gaming niche, with its characters holding the top three searches – followed by Misty from Pokemon and Lara Croft from Tomb Raider.
Overall, the most searched for terms on the website were "lesbian", "milf", and "hentai".
In total, there were more than four million videos uploaded to Pornhub throughout 2017, it said, including 810,000 amateur clips.
In total, 595,482 hours of video were uploaded – a whopping 68 years of porn if watched continuously. In the UK, top topics included 'mature' and 'dogging'.
The report revealed that over the course of 2017 there were 120 million video votes on Pornhub of which nearly 80% were positive – a million votes more than were cast in 2016's fateful US presidential election. Yet another blow to Donald Trump, then.