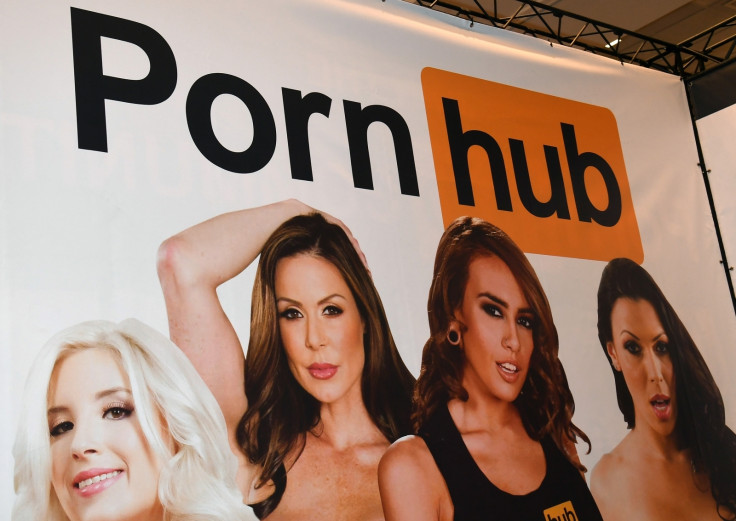 Pornhub saw a large gathering of women outside its pop-up store in Soho, New York this week, but they were not there to shop for the collection of sex toys on sale. Instead, the group gathered on 8 December (Friday) to protest the adult video website, and highlight the negative impact it had on its viewers.
The Coalition Against Trafficking in Women (CATW), the National Organization for Women-New York (NOW-NY), sex trade survivors along with feminist author Gloria Steinem held a press conference at the site, demanding that NYC Mayor Bill de Blasio stop allowing similar pop-ups from being organised around the city.
"At a time when we are beginning to dismantle the fear many sexual violence victims have from speaking out, the last thing our society needs is a storefront promoting violence against women," Sonia Ossorio, President of NOW-NY said. "We are creating a dangerous precedent when we glorify this pop-up, even if on the surface it appears harmless, PornHub and similar sites are teaching young men that the violence they see is normal and accepted."
The activists were joined by supporters who raised concerns about the unfettered access to sexist, racist and sexually abusive content available to impressionable boys and men. "Pornhub sells sexual violence," they chanted outside the premises.
"As long as porn is seen as synonymous with sex, people will defend it, but in fact, pornography is about power, not sex," Steinem said at the protest. "We need to make the difference clear to save the lives and shared humanity of both men and women."
For one protestor, the pop-up was offensive on a very personal level. Melanie Thoompson, a survivor of sex trafficking pointed out that the toys did not promote healthy sex. "All I see are things that are very traumatic to me. Past memories of toys that were used on me. Nothing in there is promoting healthy sex or equality," the woman, who was roped into the sex trade when she was just 12 years old," told PIX11.
The Pornhub pop-up opened in time for the Black Friday (28 November) shopping rush and is expected to wind up on 20 December. The company's Vice President Corey Price released a statement asserting that the brand did not support sexual violence.
"Pornhub has a zero tolerance policy with respect to non-consensual content on our site. Such material directly violates our TOS and will never be permitted on our platform under any circumstance whatsoever," the statement read. "To further ensure the safety of all our fans, we officially took a hard stance against revenge porn, which we believe is a form of sexual assault, and introduced a submission form for the easy removal of non consensual content."
Studies conducted on the effects of aggressive porn on behaviour have indicated that it could lead to physical and psychological violence against women.
"Meta-analyses of experimental studies have found effects on aggressive behaviour and attitudes," one 2015 study notes. "That pornography consumption correlates with aggressive attitudes in naturalistic studies has also been found."