US President Donald Trump has vowed that a trade deal with the UK will be completed "very, very quickly".
Trump made the comments ahead of a one-to-one meeting with Prime Minister Theresa May at the G20 summit in Hamburg, where he also praised the "very special relationship" the pair had developed.
"There is no country that could possibly be closer than our countries," he said.
"We have been working on a trade deal which will be a very, very big deal, a very powerful deal, great for both countries and I think we will have that done very, very quickly."
Trump's promises were quickly dismissed as unrealistic, however. Sir Simon Fraser, a former diplomat who served as a permanent under-secretary at the Foreign Office, told the BBC: "The point is we can't negotiate with them or anyone else until we've left the European Union.
"And the Americans and others will not negotiate with us until they know what our relationship with the EU is going to be because the access we have in Europe is hugely important for the advantages that they can get from their relations with us."
Trump also added that he "will be going to London," but when asked when, he replied "We'll work that out."
Aside from any trade deal, May is also expected to raise the issue of the Paris Agreement on climate change, with Trump signalling he intends to pull America out of the deal unless more favourable terms are negotiated.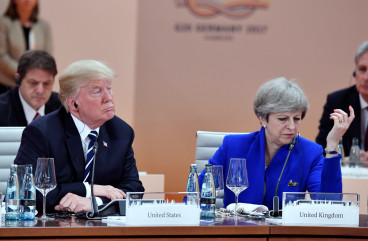 "I will be making that message. I will continue to give the message that the United Kingdom believes in the importance of the Paris Agreement," May said.
May will also hold talks with Japanese Prime Minister Shinzo Abe where she is expected to offer Japan help with counter-terrorism ahead of the Rugby World Cup in 2019 and the 2020 Olympic games.
She will also meet Turkish President Recep Tayyip Erdoğan with Syria and Isis on the agenda.