Trump and Putin met for the first time at the G20 - here's everything they've said about each other
Trump shakes Putin's hand at the G20 summit in Hamburg, Germany.
US President Donald Trump has finally met his Russian counterpart, Vladimir Putin, for the first time at a G20 summit in Hamburg, Germany, on Friday 7 July.
World leaders, including British Prime Minister Theresa May, are meeting for the two-day summit to discuss issues including climate change, security, trade and migration.
Both Trump and Putin have said they will seek to improve relations, which deteriorated following disagreements over the war in Syria and the crisis in the Ukraine. The US has also accused Russia of meddling with the country's 2016 presidential elections.
Meanwhile, a new wave of anti-G20 protests is expected to take place in Hamburg on Friday after riot police clashed with masked protesters on Thursday night. Authorities expect at least 100,000 people to protest over the course of the summit.
Trump and Putin will hold a meeting on Friday afternoon for at least 30 minutes. IBTimes UK has compiled a list of what the two leaders have said about each other from the beginning of their "bromance" to their recent fallout.
What Trump said about Putin
June 2013 - Trump takes to Twitter to wonder if Putin would attend the Miss Universe Pageant in Moscow and whether they could become friends.
Do you think Putin will be going to The Miss Universe Pageant in November in Moscow - if so, will he become my new best friend?
August 2013 - Trump criticises the then US President Barack Obama for not doing enough to improve relations with Russia, which granted asylum to the former NSA employee and whistleblower Edward Snowden.
A sad day for America with Snowden being granted asylum in Russia. Putin is laughing at Obama.
March 2014 - Following Russia's invasion of Ukraine and annexation of Crimea, Trump said:
While Putin is scheming and beaming on how to take over the World, President Obama is watching March Madness (basketball)!
April 2016 - Trump says Putin has praised him and called him "a genius".
I think he said some really nice things. He called me a genius. He said: 'Trump's a genius.' Okay. So, you know, that's nice... He has been very nice to me.
September 2016 - Trump praises Putin for the way he leads Russia.
The man has very strong control over a country... It's a very different system and I don't happen to like the system but certainly, in that system, he's been a leader far more than our president has been a leader.
January 2017 - Following his election as the new US president, Trump says he has no relations with Putin, but he hopes this can change in the future.
I don't know the gentleman [Mr Putin]. I hope we have a fantastic relationship. That's possible, and it's also possible that we won't... We'll see what happens.
March 2017 - Once again, Trump says he does not know Putin personally and makes remarks on the Russian leader's toughness.
Don't know him but certainly he is a tough cookie. I don't know how he is doing for Russia; we are going to find out one day.
July 2017 - Ahead of the G20 summit, Trump calls on Putin to end Moscow's "destabilising activities" in Ukraine. He also urges his counterpart to stop supporting "hostile regimes" in the Middle East and join the "community of responsible nations" in their fight against common enemies in Iran and Syria.
We urge Russia to cease its destabilising activities in Ukraine and elsewhere, and its support for hostile regimes, including Syria and Iran, and to instead join the community of responsible nations in our fight against common enemies, and in defence of civilisation itself
What Putin said about Trump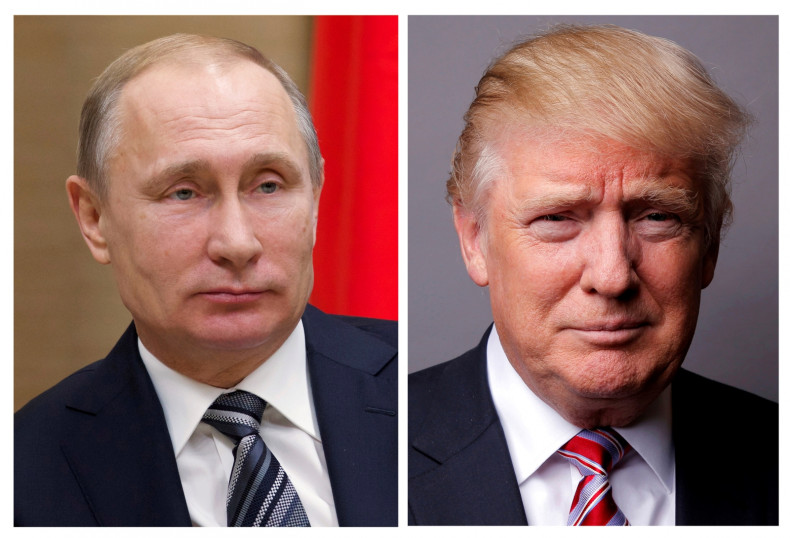 June 2016 - In the run up to US presidential elections, Putin speaks of Trump, the then Repblican presidential candidate, as a "colourful" man.
Trump's a colourful person. And well, isn't he colourful? Colourful. I didn't make any other kind of characterisation about him. But here's where I will pay close attention, and where I exactly welcome and where on the contrary I don't see anything bad: Mr Trump has declared that he's ready for the full restoration of Russian-American relations. Is there anything bad there? We all welcome this, don't you?
October 2016 - One month before the presidential elections, Putin praises Trump for "getting through voters' hearts".
He has chosen a method to get through to voters' hearts... He behaves extravagantly of course, we see this, but I think there's a reason for this. He represents the part of US society that's tired of having the elite in power for decades.
November 2016: As Trump is elected as new US president and Putin congratulates America.
I'd like to congratulate the American people on the completion of the electoral cycle and Mr Donald Trump on his victory in this election... Russia is ready and wants to restore fully-fledged relations with the USA.
April 2017 - Putin said relations with the US have been deteriorating since Trump took office, in the wake of America's missile strike on a Syrian air base.
One could say that the level of trust on a working level, especially on the military level, has not improved, but rather has deteriorated.
June 2017 - Putin says Trump cannot be regarded as a traditional politician.
He can't be put in the same category as traditional politicians. I see great advantages because he's a person with a fresh view... Some people like him, some don't.