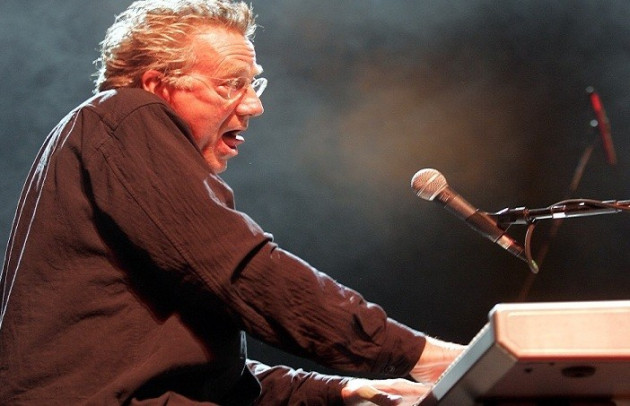 Doors keyboard legend Ray Manzarek has died from cancer, sparking a wave of tributes to the man who helped define the band's groundbreaking sound.
Manzarek died in Germany during treatment for bile duct cancer.
He formed psychedelic pop band The Doors with singer Jim Morrison in July 1965, following a chance encounter between them on Venice Beach in Los Angeles.
Manzarek's fluid playing style provided a distinctive accompaniment for Morrison's poet lyrics and made The Doors one of the hippie generation's defining bands.
Songs such as Riders on the Storm, The End, and Break on Through (to the Other Side) became part of the soundtrack for the counterculture.
According to The Doors' genesis story, Manzarek told Morrison they should form a band after hearing the singer recite the words of Break on Through on the beach.
Doors drummer John Densmore said the pair were the perfect musical partnership.
Densmore said: "There was no keyboard player on the planet more appropriate to support Jim Morrison's words. Ray, I felt totally in sync with you musically. It was like we were of one mind, holding down the foundation for Robby [Krieger] and Jim to float on top. I will miss my musical brother."
Doors guitarist Krieger added: "I was deeply saddened to hear about the passing of my friend and bandmate Ray Manzarek. I'm just glad to have been able to have played Doors songs with him for the last decade. Ray was a huge part of my life and I will always miss him."
Guns 'n' Roses guitarist Slash wrote on Twitter: "RIP Ray Manzarek. Words cannot express. The Doors represent the LA sound to me. It was the first band I remember hearing when I came from England."
Aerosmith guitarist Joe Perry said: "I am very saddened by loss of Ray Manzarak [sic] now he's with Jim. They mean as much to me today as they did 40 years ago."
More than 100 million copies of Doors albums have been sold. The band split up following Morrison's death in a bath in Paris in 1971.
Manzarek had spoken of how Morrison's death hit members of the group. He said: "Without Jim, everybody started shooting off in different directions.
"The Doors was the perfect mixture of four guys, four egos that balanced each other. There were never any problems with 'You wrote this' or 'I wrote that.' But [after Jim died] the whole dynamic was screwed up."
Manzarek is survived by a son and three grandchildren. In the wake of his death, Manzarek's family requested wellwishers donate money to cancer research charities in lieu of floral tributes.