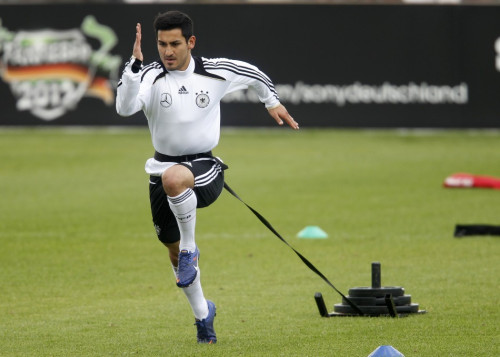 Borussia Dortmund are hopeful to keep Manchester United target Ilkay Gundogan at Signal Iduna Park after club's sporting director Michael Zorc admitted they are keen to keep the midfielder in Germany.
The 23-year-old's contract with the Champions League runners up runs down in 2015 and is yet to sign an extension with the Bundesliga giants. The German international has been linked with a move away from his current employers, with the Premier League champions and Real Madrid believed to be interested in his services.
Dortmund star picked up a back injury while featuring in a friendly fixture for Germany against Paraguay in August. Gundogan was set to return earlier this season, but later tests confirmed the midfielder will be out of action for the rest of last year.
Gundogan returned to full training earlier this month for the first time this season and Zorc believes the club's relationship with the player's family could help them in signing a contract extension.
"For Ilkay, the most important thing is that he gets well first. But we will soon have discussions with him and his family, we have a very good relationship with them," Zorc told Bild.
Earlier this week, Dortmund's sporting director stressed that Gundogan needs to give more clarity as the German side are keen on extending his stay at Signal Iduna Park.
"We are not fond of ultimatums. The other party needs to understand [that the club need clarity]. Our top priority is to find out if there is a willingness to prolong the contract," ESPN quoted Dortmund sporting director as saying.
Meanwhile, Gundogan admitted that he is still suffering from pain after the injury he picked up in August and has set his eyes on a quick on field return.
"The thing I'm going quite well. But there will be periods where I have to get used to the load. I'm still not fully fit and not completely pain free," Gundogan told Bild.
"I have continued drawing pains in the hip, calf, shin. Still bothers me das. But I am sure that we get the regulated. My ultimate goal is to be completely healthy. Then I want to go back on the attack," he concluded.