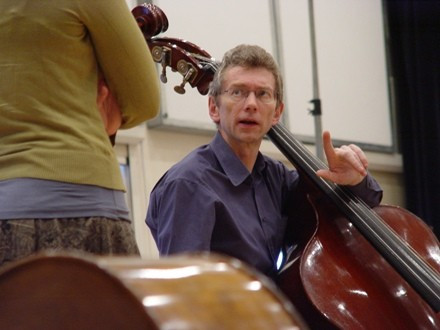 A world-renowned double bass player has been charged with sexual offences during an investigation into historical abuse at music schools in Manchester.
Duncan McTier, 59, a former teacher at the Royal Northern College of Music, has been charged with four counts of indecent assault relating to three women. The offences are alleged to have taken place between 1985 and 1994.
McTier was first arrested at him home in London last May on suspicion of indecently assaulting a 21-year-old woman while she was a pupil at the Royal Northern College of Music in 1994.
McTier, who has also been employed as a professor of the double bass at the Royal Academy of Music, has now been charged with the indecent assault allegation againt the 21-year-old woman, as well as the sexual assault of a 17-year-old girl in 1985 and the sexual assault of a 23-year-old girl in 1988.
"The women were pupils at different music establishments at the time in question," a Greater Manchester Police officer said.
McTier will appear at Manchester magistrates court on 23 May to face the charges.
He is the first person to be charged as part of Operation Kiso, a police inquiry investigating historical sexual abuse at the college in central Manchester, and Chetham's School of Music.
The investigation was launched following the conviction of former teacher Michael Brewer, who was found guitly in February of abusing former pupil Frances Andrade in the 1970s and 80s.
Andrade, 48, died after committing suicide after being cross-examined during the trial.
McTier is a hugely respected musician, having played in the BBC Symphony Orchestra at the age of 20 and gained professorships at Royal Academy of Music in London, the Zürcher Hochschule der Künste in Switzerland, and the Escuela Superior de Música Reina Sofia in Madrid.
He has also been awarded Honorary Membership of the Royal Academy of Music and Fellowship of the Royal Northern College of Music.