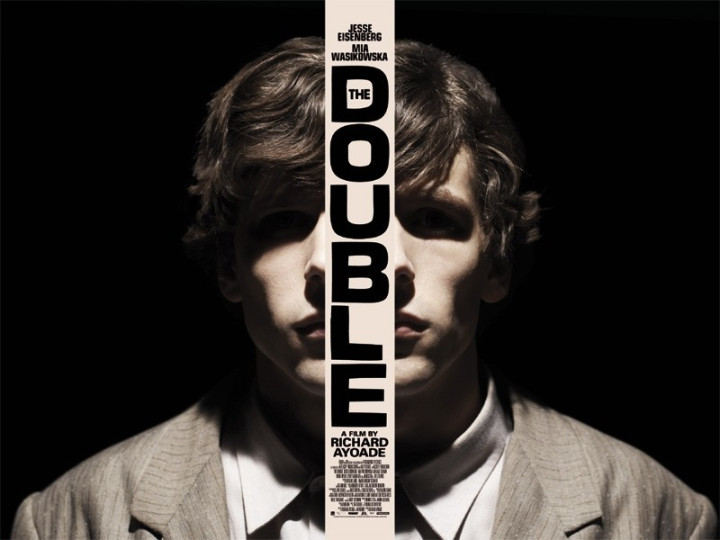 Simon James (Jesse Eisenberg) is a downtrodden office drone whose miserable existence is made even worse by the arrival of a duplicitous doppelganger, James Simon (also Eisenberg), who shows up at his work one day and begins to lead the life that Simon thinks he should be leading.
A Kafkaesque surreal comedy, The Double is a neat reworking of a Dostoyevsky novella that shows Richard Ayoade's growing confidence as a film-maker. The film is showing in competition at the 57th BFI London Film Festival.
Ayoade's first feature, Submarine, was a Wes Anderson-light coming of age story set in 1980s Wales, or more correctly a remembered pop-culture-inflected 1980s Wales. A similar pseudo-period feel is given to The Double, a 1980s Reaganite relic where the walls are always beige, the TVs are small and office computers are rudimentary.
Simon lives his life in a totalitarian corporate world that is forever artificially lit, wearing his suit both at the office and home. With co-workers constantly monitoring his actions, along with references to pleasing their enigmatic boss the Colonel, the movie is as much set in Orwell's 1984 as the actual one.
He's a feeble shadow of a man, "pretty unnoticeable, a bit of a non-person," as one character notes. Simon is unrecognised at work, despite being at the company for seven years, bullied by his mother, despite showing nothing but love towards her, and unnoticed by Hannah (Mia Wasikowska), the photocopier girl at work he is smitten with.
The world conspires against him to such an absurd extent that he cannot speak without being lambasted, or kick a door in frustration without being punished. He looks so pathetic and hopeless that when a police squad investigates near his home they note him down as a 'maybe' candidate for future suicide.
A sluggish start gradually reveals more of the nightmarish world he inhabits, before doppelganger James arrives. Despite looking identical he is the opposite of Simon - charming with women, confident at work and assertive around others. In a spate of Kafkaesque cruelty this carbon copy muscles in on Simon's life, dating Hannah, passing off his office work as his own and even taking the keys to his apartment.
Eisenberg, who made his name spouting Aaron Sorkin's sharp dialogue as Mark Zuckerberg in The Social Network, brilliantly performs the dual roles - one infuriatingly meek and the other irritatingly arrogant. He's bolstered by the luminous Wasikowska, along with an eclectic mix of British comedic talent including Chris O'Dowd, Tim Key and Chris Morris (as well as the whole cast of Submarine in cameo roles). Ayoade clearly still has his fellow IT Crowd cast members on speed dial.
Just don't expect a lot of laughs. Too patterned, too arch; it's a film you admire with detachment rather than love with investment. But in Ayoade, we have a burgeoning British talent who has moved on from Submarine to develop a genuinely distinctive style. I eagerly await whatever nightmarish world he constructs next.
The Double is screening as part of the 2013 London Film Festival. The film will be released in UK cinemas nationwide in 2014.
London Film Festival Reviews