A truck driver is facing criminal charges after ploughing into the world-famous Nazca lines in Peru.
According to the Peruvian Ministry of Culture, the driver entered the archaeological zone as he was trying to pay a highway toll. He ignored warning signs and drove into the fragile pre-Inca remains on 27 January.
The incident left "deep prints in an area approximately 100 metres-long", and damaged "parts of three straight-lined geoglyphs", according to the Ministry of Culture.
The man was detained by security guards and later charged. The lines have been designated a Unesco World Heritage site since 1994.
Entering the zone is strictly forbidden due to the fragility of the soil that surrounds them and the man faces between three to six years in prison if found guilty. Peruvian authorities stipulate that visitors and pedestrians wear foam-covered footwear in the zone.
Even though they were discovered in 1927, the lines came to international attention after a pilot spotted them from the sky in 1930. The most famous lines represent several figures of animals, flowers and even humans. More than a hundred lines have been discovered in the Nazca Desert in Southern Peru, about 100 kilometres away from Lima.
Nazca incidents
It is not the first time the Nazca lines have been damaged. According to archaeologist Johny Isla, who directed research on both the sites of Nazca and Palpa, incidents like these happen daily.
"What happens is that this time there were some people who made a film and uploaded the images to the social networks, it's a situation that happens constantly, there are also people who throw garbage there, " he told Peruvian Radio RPP.
In 2015, the lines were vandalised after a man entered the site on foot and carved his name on one of the geoglyphs, AFP reported.
In December 2014, Greenpeace entered the site as Peru hosted UN talks on climate change and set up large letters beside the geoglyph known as the Hummingbird which read: "Time for change! The future is renewable."
Greenpeace later apologised to displeased authorities who vowed to investigate the incident threatening a lawsuit against the environmental campaign group.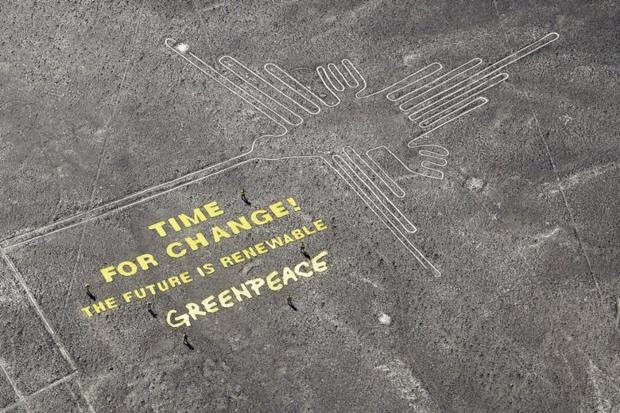 Mysterious lines
The origins of the Nazca lines remain mysterious. They can be traced back to between 500 BC and 400 AD, pre-dating the Inca civilisation by about 13 centuries. The figures, called "geoglyphs" were "drawn" by the Nazca Civilisation by tracing lines in the reddish sand on the surface of the earth to uncover the white ground underneath.
The drawings are best seen from the sky and present different levels of complexity. Extremely complex figures have been achieved, like the drawings of a spider, an orca, a heron and a monkey. Less complex figures represent flowers or trees. Geometric drawings that run for kilometres are also visible.
The illustrations have remained a mystery throwing up several lot of explanations from architecture experiment to alien communications.