Two British brothers are among the five men who were arrested while attempting to smuggle 500kg worth of cocaine into Britain.
Martin Neil and his brother, Stephen, were arrested at Farnborough Airport on Tuesday (30 January), after disembarking a private jet that had flown into the Hampshire airport from Bogota, in Colombia.
The National Crime Agency (NCA) said the Neils, from Poole, Dorset, have been charged with importing cocaine and will appear at Uxbridge Magistrates' Court this morning (31 January).
Italian Alessandro Iembo and Victor Franco-Lorenzo and Jose Ramon Miguelez-Botas, both of Spain, who were arrested at the same time, are also due to appear.
The amount of the Class A drug recovered is thought to be worth around £50m, making the raid one of the largest in the history of the British border force.
"After meeting the flight and questioning those on board, officers became suspicious and searched the aircraft and their luggage," said Border Force deputy chief operating officer Mike Stepney.
"When opened, each case was found to contain between 34 to 37 tape-wrapped packages, weighing approximately one kilo each.
"One of these was pierced and a white powder exposed which tested positive for cocaine."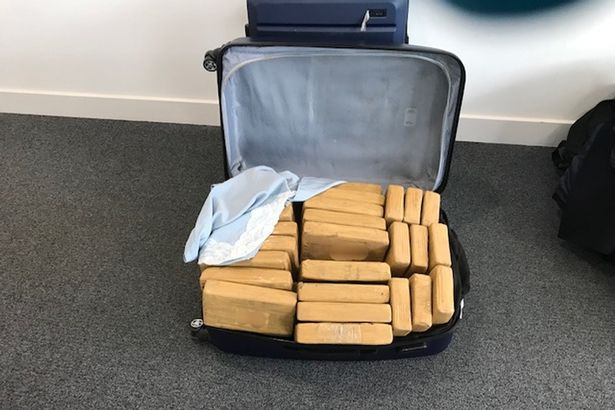 NCA operations manager Siobhan Micklethwaite added: "This is a major seizure of cocaine, one of the largest flown into the UK by plane in many years, and this seizure by Border Force represents a major blow to organised crime.
"We estimate that once cut and sold on the streets in the UK it would have had a potential value in excess of £50m. Our investigations into this attempted importation are continuing."
Members of the jet's crew were also questioned but released without charge.