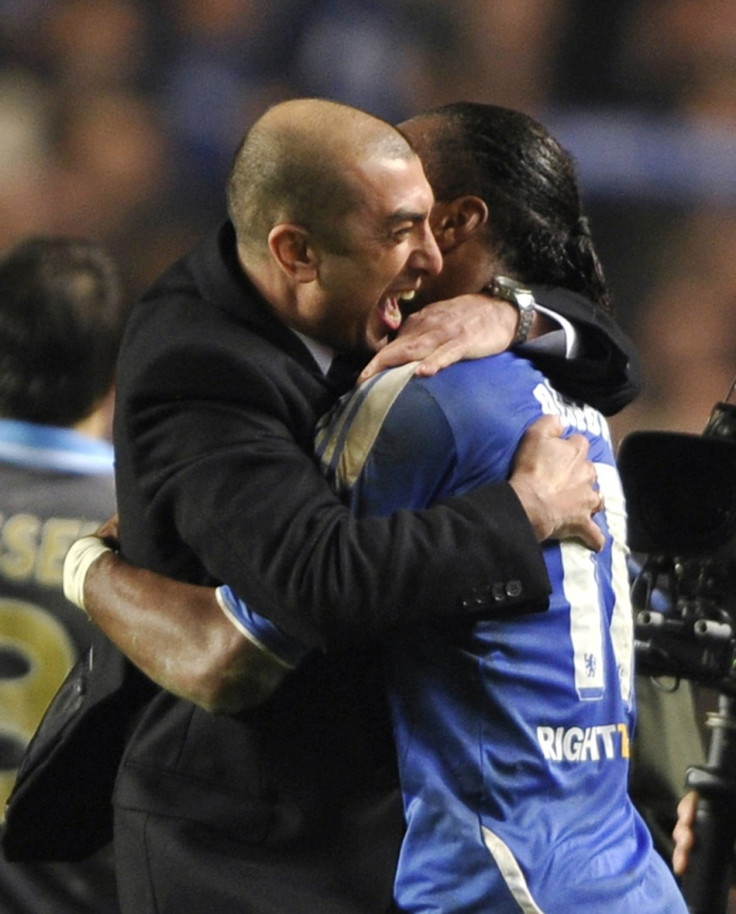 Chelsea interim manager Roberto Di Matteo says there is no need for him to talk to striker Didier Drogba about diving or time wasting. The Ivorian had been criticised by pundits and football fans for play-acting in the Londoners' victory over Barcelona on Wednesday.
"Every team does it. Let me tell you, Barcelona do it as well. You've seen him many years over his career here and made assessments of his character. What you see on the pitch is from where you make your assessment. Everyone is entitled to their opinion. He was marked most of the time by two men and got a physical battering," The Sun quoted the manager as saying.
Several other footballers also had a go at Drogba for his "antics" against the Catalan club.
"You are a good player but please get up," tweeted Manchester United star Wayne Rooney, while watching the match.
Meanwhile, Ex-England and Liverpool striker Robbie Fowler joked: "Has Drogba got the right footwear on? Seems to be slipping a lot."
In a similar incident involving United winger Ashley Young, manager Sir Alex Ferguson said he "had a word" with Young about going down too easily at times but Di Matteo feels there is no need for such a conversation with Drogba or any of his players.
"I don't see any reason for conversations like that. Our players are fair. Everyone has their own style - but we are fair. Diving's part of our game that we should try to eradicate. It's unfair but, sadly, part of our game. The majority don't dive. We shouldn't generalise or put everyone in the same pot," the Italian stressed.
Meanwhile, an earlier IBTimes UK report stated Drogba is expected leave Chelsea at the end of the season and join former teammate Nicolas Anelka at Chinese outfit Shanghai Shenhua in the summer. Di Matteo now admits he is unsure whether the 34 year old will be at Stamford Bridge next term but feels the striker is already part of the club's history anyway.
"Didier's fit and he is certainly capable of playing in the Premier League for Chelsea, or someone else next year. He could do it for another couple of years at this level. He won't retire. Whether he'll be here or elsewhere, I don't know. He's part of the history of this club, like many players, and always will be. But the final decision is for the club to take," Goal.com quoted the manager.
Drogba will miss the crucial league match at Arsenal on Saturday because of a knee injury and is also a doubt for Tuesday's Champions League semi-final second leg match at Barcelona.