Canada Wildfire: Drones to be deployed to investigate the cause and scope of Alberta blaze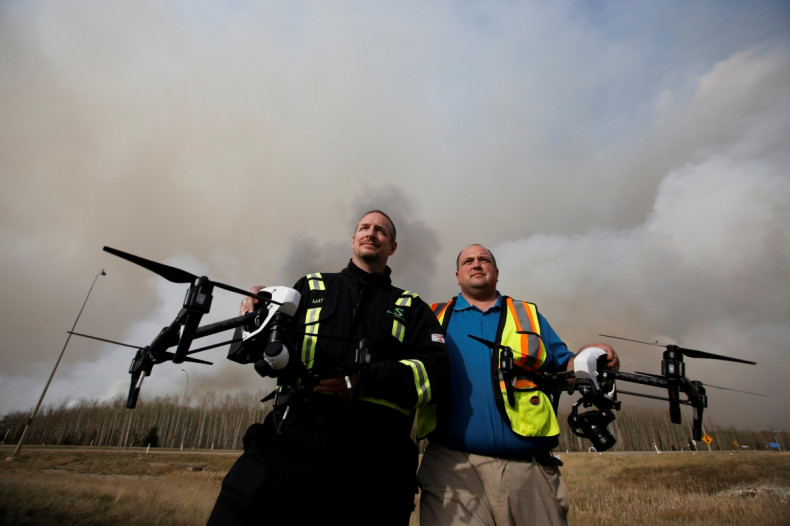 Drones will be deployein a bid provide information on the scope and cause of the huge wildfire that is ravaging the Canadian province of Alberta, air quality warnings have been issued for Saskatchewan and Northwest Territories, it has been announced.
The dry weather and terrain have fuelled the raging fire, which now covers more than 700 sq miles (2,000 sq km), with officials saying the only hope of bringing the fire back under control is heavy rain. There are unconfirmed reports that the blaze had spread from Alberta into neighbouring Saskatchewan.
The Alberta government has struck a deal with company Elevated Robotic Services, which has used drones in mining and construction. The devices are due to be deployed on Tuesday (10 May) along with helicopters and air tankers.
Mat Matthews, the operation and safety manager head at the Edmonton- based company told Reuters that the drones, which are one-foot wide, can help find a cause for the blaze which has led to the evacuation of more than 88,000 people.
"If anything, (the drones) will allow them to determine a cause much faster," said Matthews.
Fitted with infra-red, ultraviolet as well as traditional cameras, they will find out the hottest part of the fire and trace its source. The cameras will take about 800 images, which are then stitched together in a process known as fire-mapping which Mathews described as: "It's like Google Maps but 100 times better."
Ron Windmueller, the owner of Droneology - a company that supplies equipment and other services to Elevated - says it is a much more effective way of gathering information about the fire's cause and how much more damage it can do.
A drone can capture images from as high as 100 feet (33m), although battery life lasts around 45 minutes, meaning it may be difficult to gather information on the areas of the blaze which are hardest to reach.