Southampton forward Dusan Tadic has claimed that he will play against Liverpool in the upcoming weekend despite suffering a broken nose in a World Cup 2018 qualifier against Wales. He is willing to wear a protective mask to assuage any chances of suffering further injury. This will come as a major boost for manager Claude Puel against a resurgent Liverpool side who are currently at the top of the table.
Tadic got injured when Neil Taylor kicked him in the face while competing for the ball and the forward was rushed to the sidelines for treatment, with his face covered in blood. He returned to the pitch with cotton wool stuffed in his nose and finished the length of the game, despite admitting that it was difficult for him to breathe at times.
When asked if he will be fit for Liverpool, Tadic said, as quoted by the Guardian, "Serbia people are not soft. We will see. I can wear a mask."
"I think I have broken my nose," Tadic added. "At first I thought I could not see so many things but I couldn't leave my team-mates alone on the pitch and I wanted to play and this is important. Every player feels really important for the team. You cannot leave team-mates without you.
"I couldn't breathe or do anything and I lost a lot of blood. I see a little bit also not so good. But that does not matter as when you play a game you want to fight for your country to try to give your best."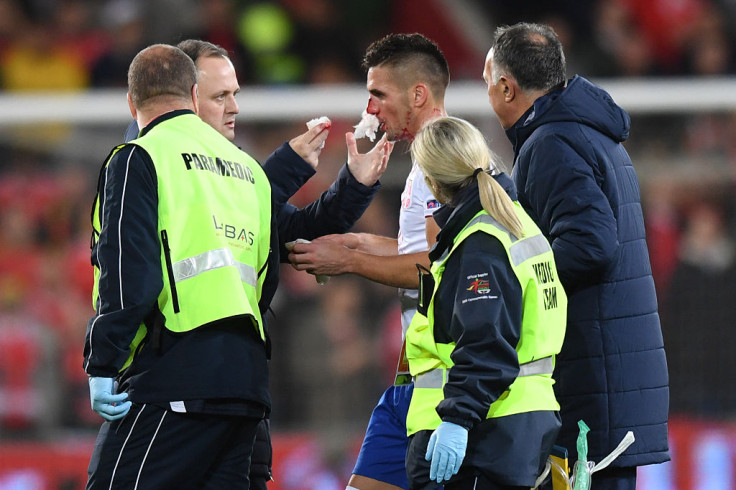 Puel needs all his players to be fit if he has to pull an upset over a flamboyant Liverpool side, who have emerged as proper challengers for the title. The Reds are on an unbeaten run in the league since being beaten by Burnley and are looking good to extend their one point lead at the top of the table.