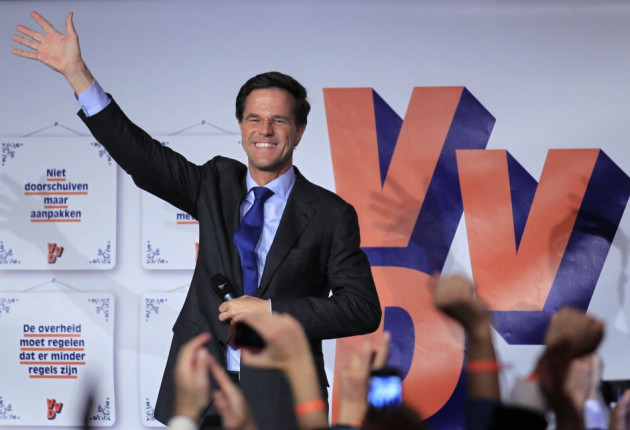 Liberal Party leader and caretaker prime minister of the Netherlands Mark Rutte has won a closely contested election which was largely fought on issues such as austerity policies and eurozone rescue measures.
The results indicate that the fifth largest economy in the eurozone is more closely aligned with the pro-European policies of the Liberals and the Labour party than the Eurosceptic fringe parties.
"This is a big encouragement for the agenda that we have put forward to take this country strongly out of the crisis and to go forward with a growing Dutch economy," said Rutte after 96 percent of the votes counted.
"We won our greatest victory in history and for the second time become the largest party in the Netherlands.
"We fought this election house by house, street by street, city by city, and I'm proud. Tomorrow I will take the first steps leading to the formation of a cabinet."
According to the preliminary results, Rutte's centre-right VVD party won 41 out of the total 150 seats in the lower house, just two more than the centre-left Labour Party, which came in second.
The eurosceptic Freedom Party of Geert Wilders and the far-left Socialist Party, which opposes immigrations and austerity, have met with heavy losses. Wilders, a critic of EU austerity measures and bailout programmes, had demanded the exit of the Netherlands from the euro and from the eurozone.
The thin majority for Rutte suggests a coalition government in the Netherlands is likely, and it is not clear whether Labour leader Diederik Samson would join the coalition. The two leaders have played down such a possibility during the campaigns.
While Rutte's policies were seen as being aligned with the German Chancellor Angel Merkel's plans of strict austerity, Samson's policies broadly agree with the French President Francois Hollande who advocates more spending and tax rise for the rich.
"Nobody knows exactly what will happen tomorrow, but one thing is certain. The course can be changed. The course must be changed because the right-wing policies of the past two years cannot continue," said Samson, indicating a hard bargain in the coalition talks.