Dutch UAV engineer invents Star Wars personal flight vehicle that hovers in the air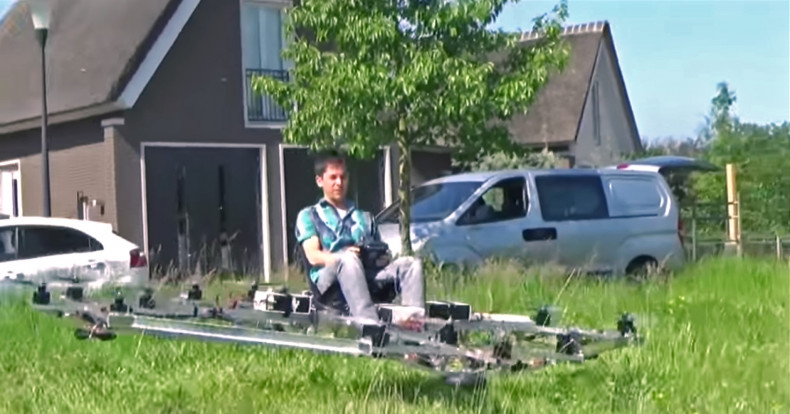 There is a race going on right now in the crazy inventions corner of the aerospace industry – one to see who will be first to create a personal flight vehicle that will enable someone to hover and travel at speed through the air.
The idea is to build a personal vehicle similar to the one-man podracers raced by young Anakin Skywalker in Star Wars Episode I: The Phantom Menace.
So far, two companies are in the race – Hungarian research institute Bay Zoltan Nonprofit Ltd with the Flike, and UK firm Malloy Aeronautics' Hoverbike.
But now a new competitor has come along, a Dutch engineer called Thorstin Crijns who works at an unmanned aerial systems (UAV) company in the Netherlands.
Crijns decided to try to build a drone large enough to carry a man, and after a lot of planning and calculation using smaller prototypes, he has succeeded in building a personal flight vehicle that looks like a large civilian drone, only it comes with 16 rotors and a place for a human to sit on the centre of it.
16 engines and rotors needed to get it into the air
As described on his project page, the hexadecacopter frame is made from lightweight 6060 aluminium. In total, including all components, it weighs 110lbs (50kg) and can support a payload of 132lbs, so its total weight is 243lbs.
To support that weight, the vehicle features 16 separate engines that are together able to generate 282 pounds of static thrust, and each engine is powered by 10 lithium-ion polymer (lipo) batteries.
The personal flight vehicle is controlled using the MultiWii Autopilot control system, which is good at calculating how much power each engine needs, in order to make sure the vehicle stays level.
So far, Crijns's test flight of his vehicle has enabled him to lift-off vertically, hover and then land within the space of only 10 seconds but what is amazing is that he has managed to do it by himself.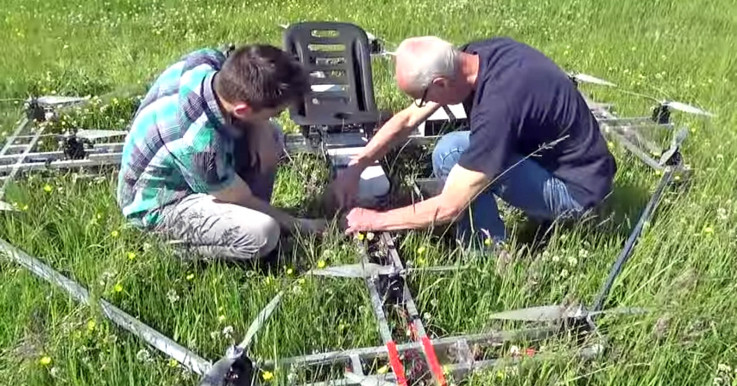 Getting the huge 16 rotor drone ready for take-off
Thorstin Crijns
Not ready for commercialisation
None of the personal flight vehicles we have mentioned are anywhere close to be commercialised at the moment.
Bay Zoltan Nonprofit Ltd is now spinning off Flike to become a regular tech startup company and is seeking investors.
The Hoverbike, meanwhile, has had several successful test flights but the difficulty in making the vehicle work has meant Malloy Aeronautics has released a one-third-scale drone in order to raise funds and repay people who backed its Kickstarter campaign in August 2014, which raised £64,000 ($100,000).
The US Department of Defence is now working with Mallow Aeronautics to realise the Hoverbike, which it hopes will be available within the next three to five years.