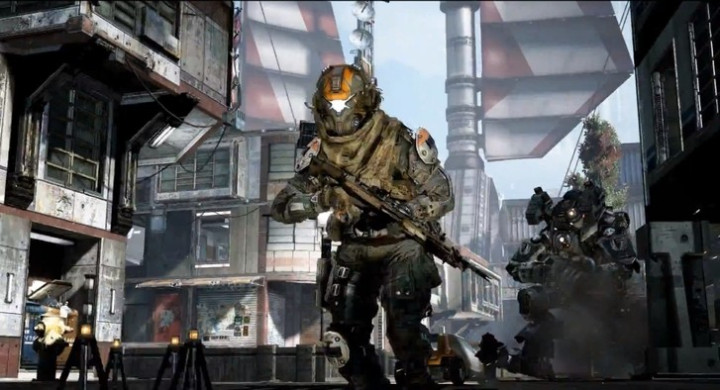 Electronic Entertainment Expo (E3) 2013, is under way at noon 11 June through 5pm 13 June at the Los Angeles Convention Centre. Microsoft has unleashed some of the biggest game titles of the year at the event and has lived up to its promise of making it an all-out game focused show. This has come as a big surprise as the company had earlier showcased just the capabilities and features of the next-generation Xbox console without any hint of the upcoming titles.
Microsoft has truly turned the tide in its favour with some breath-taking and visually stunning game titles such as Halo 5, Titanfall, The Witcher 3: Wild Hunt and Dead Rising 3 featuring in its menu of upcoming game titles. Electronic Arts (EA) has also unveiled some of its highly-anticipated game titles including FIFA 14, Dragon Age: Inquisition, Mirror's Edge 2 and Star Wars Battlefront.
In addition, EA Sports franchise has introduced its new advanced physics engine touted as "Ignite", that will power its next-generation titles including Madden 25, FIFA 14, NHL 14 and NBA Live 14. The new game engine brings realistic ball behaviour, player movement and also highlights spectator behaviour in the stands. EA Sports has also revealed its plans for introducing a new mixed martial arts game title in association with the Ultimate Fighting Championship team, which will also be powered by the Ignite engine.
On the other hand, Sony has come up with its own trump card, announcing that its next-gen console, PS4, would support used games out of the box. Besides, the Playstation maker also revealed a few blockbuster titles including Killzone: Shadow Fall, Infamous: Second Son, Assassin's Creed IV: Black Flag and Watch Dogs.
IBTimes UK brings you the top seven game titles to watch out from across three gaming platforms: PC, Xbox One and PS4.
HALO 5
Microsoft and 343 Industries have yet again come together to unleash the next-instalment in the Halo franshise dubbed as Halo Xbox One at E3 2013. Although Halo 5 is still the assumed name, Microsoft reveals that the new game will take you on a new journey in the Halo universe beginning in 2014, which actually hints at the game's release date.
It is also ascertained that Halo Xbox One will be the first in the franchise to run in full 60 frames per second.
Watch the official E3 trailer for Halo Xbox One, below:
Titanfall
Microsoft's big surprise comes in the form of Respawn Entertainment's Titanfall, which is actually the first game developed by ex-Infinity Ward employees who recently parted ways with Activision. Considering the stunning visuals and intense multiplayer action in Titanfall, the new franchise promises to be worldwide FPS gaming sensation with the ability to jump into and top of giant mechanoids, as you tear apart your enemy's defences.
Assassin's
Assassin's Creed IV: Black Flag
Ubisoft's Assassin's Creed IV continues the legacy of the epic action- RPGs through the series. The exclusive in-game footage revealed at E3 during Sony's press conference showcases the protagonist, Edward Kenway, who makes his way through a dense tropical forest to a pirate village on the island. The footage reveals the hero who sneaks past a security guard and kills him, while following a wanted person into the forest. Further down the trail, he picks off enemies with stealth weapons in traditional Assassin's Creed style, including tree running. Then there is a rain of cannon fire with immediate destruction of the town seemingly inevitable, as Edward escapes after a mini-naval combat similar to AC3. He is then shown making his way to the nearest ship for some hand-to-hand combat.
The Witcher 3: Wild Hunt
The Witcher 3: Wild Hunt takes the player through the grizzly, monster-hunting game world in a dark twist of fantasy adventures that promises to take the RPG gaming experience to the next level. The game developer, CD Project Red, has reportedly assured a 50-plus hour gameplay through the main campaign, with an additional 50 hours of side quests on a game world bigger than Skyrim's. The focus of the game is said to revolve around Geralt's special abilities to slay huge beasts.
Dead Rising 3
Dead Rising 3 offers a completely open world zombie action game with an expansive array of weapons and customisations to deal massive damage and dispatch hoards of the undead in the most brutal way possible. The player's arsenal includes modified weapons such as the sledgesaw, which is a hybrid of sledgehammer and chainsaw. Grand Theft Auto-style driving and the SmartGlass add-ons pave the way for some critical and deadly ways to annihilate hoards of the undead.
Battlefield 4
At its recent EA press conference at E3, DICE confirmed that Battlefield 2's Commander Mode will return in Battlefield 4. The multiplayer game employs a top-down interface to enable as single player take control of a squad by issuing instructions in real-time. The player gets a top-down view of his teammates' position, nearest support vehicles and other military assets. The multiplayer feature will be supported on PCs, consoles as well as tablets with a maximum limit of 32 players on each side. In addition, DICE's Battlelog service installed on handsets will facilitate interaction with online players in real time. Owners of Battlefield 3 are expected to get free copies of Battlefield 3: Close Quarters DLC, according to the recent EA announcement at E3.
Call of Duty: Ghosts
Call of Duty Ghosts follows the aftermath of a devastating event that changed the global balance of power, as United States loses its Superpower status. Ten years after the event, a band of elite soldiers dubbed as "Ghosts" wage a covert operation against an unknown enemy with the risk of unforeseen consequences awaiting themselves and the future of America.