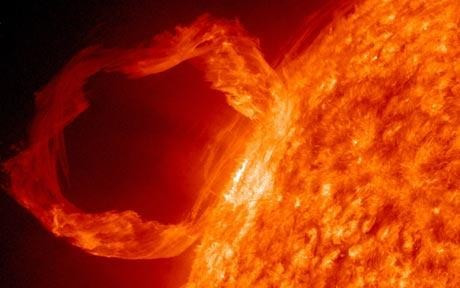 U.S. weather space experts have confirmed that the Earth was hit a "glancing blow" by a solar storm created by a massive sun spot on Tuesday.
Despite the nature of storm the experts clarified that very little damage had been done to any electrical equipment. The scientists later clarified that the storm that delivered the blow was "probably at its end."
The team was quick to point out that Earth had avoided the worst of the storm. "It seems that the solar wind that was really energized ... seems to have passed us by," commented Joe Kunches, a scientist at NOAA's Space Weather Prediction Center in Boulder, Colorado to Reuters.
Had the storm hit the Earth more directly everything from satellites, power grids and navigation systems could have been affected and potentially damaged.
NASA's Goddard Space Weather Lab outside Washington D.C had rated the storm as "strong-to-severe" when it was at its most turbulent. The storm was built by charged particles from the sun, it was reportedly created a solar flare from sunspot 1302 early on Saturday.
The intensity of the storm reflected the massive size of its birth place, which is reportedly large enough to fit more than ten Earths in it, being an estimated 99,000 miles across in size.
As well as reporting the glancing blow scientists were quick to point out that other storms may soon come Earth's way. The scientists clarified that the sun is currently going through a turbulent period of its 11-year solar cycle, increasing the likelihood of solar storms. The scientists went on to suggest that the period of Solar activity would peak around mid-2013.