The head of the World Health Organization (WHO) and leaders of the West African nations affected by the Ebola outbreak are to announce a new $100 million (£59m, €74.6m) response plan.
WHO director-general Margaret Chan said in a statement released on the WHO website: "The scale of the Ebola outbreak, and the persistent threat it poses requires WHO, Guinea, Liberia and Sierra Leone to take the response to a new level."
Chan and the West African presidents will meet in the Guinean capital Conakry.
"This will require increased resources, in-country medical expertise, regional preparedness and coordination," Chan added.
"The countries have identified what they need, and WHO is reaching out to the international community to drive the response plan forward."
The WHO said several hundred medical professionals needed to be deployed to the affected countries to assist workers and facilities struggling with the epidemic, which has claimed 729 lives since February.
Sierra Leone's president Ernest Bai Koroma declared a public health emergency on Thursday to curb the spread of the disease, after the pathogen claimed the lives of 233 people in the country.
Koroma announced that the epicentres of the outbreak in the east would be quarantined and security forces to enforce the measures.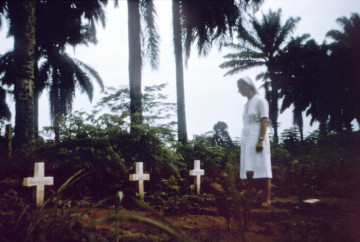 A fundamental element in the WHO's new action plan involves stopping transmission in affected countries by "scaling up effective, evidence-based outbreak control measures".
Another key function is to prevent the spread of Ebola to neighbouring countries at risk of the disease, by "strengthening preparedness and response measures".
The plan is also expected to emphasise the dangers faced by health workers on the front lines of the virus outbreak, and introduce better ways to protect them from infection.
The organisation said the scale of the 2014 outbreak is "unprecendented". More than 1,300 confirmed and suspected cases have been reported in Guinea, Liberia and Sierra Leone since March: more than triple the 425 infections reported during the last big outbreak of Ebola, in Uganda in 2000.
Ebola spreads by contact with infected bodily fluids and blood. It is characterised by flu-like symptoms, followed by internal bleeding and haemorrhaging from eyes and gums. Ebola kills up to 90% of infected patients.
Speaking to APF, Professor Peter Piot, who discovered the disease in the 1970s, said: "Someone who dies is washed, the body is laid out, but you do this with bare hands. Someone who died from Ebola, that person is covered with virus because of vomit, diarrhea and blood."
There is no known cure to the virus, although experimental vaccines have shown signs of success on animals.